Sarbodaya Nepal Announces Vacancy At Different Positions | सर्वोदय नेपालद्वारा विभिन्न तहका लागि कर्मचारीको माग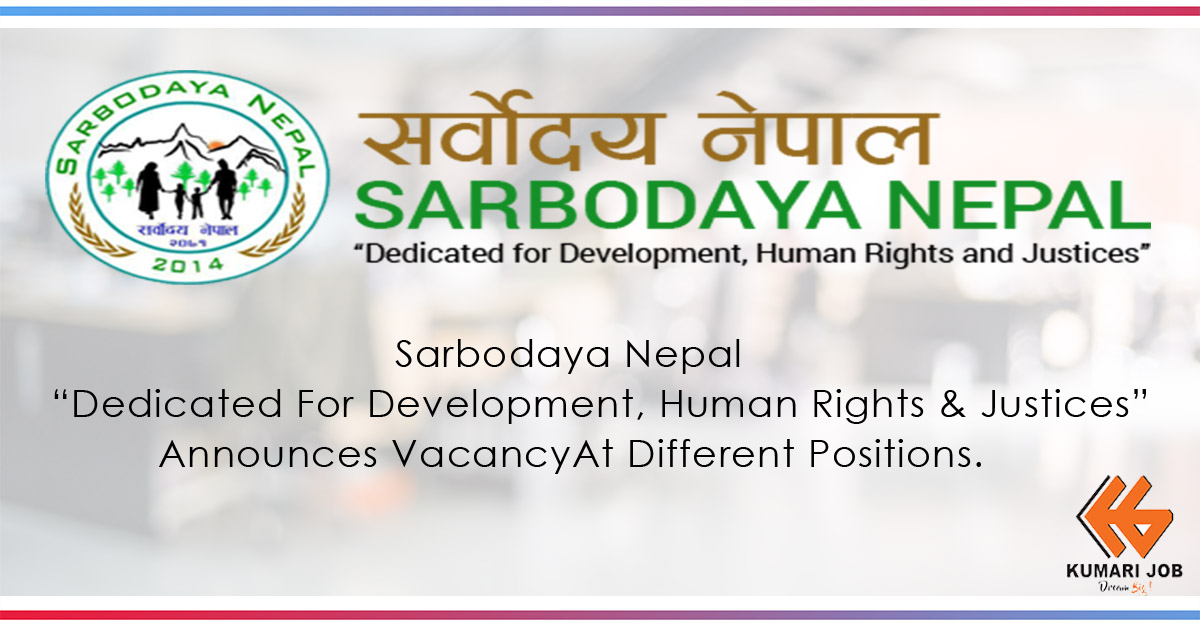 Sarbodaya Nepal is a national NGO active in different districts of Nepal. Sarbodaya Nepal is looking qualified candidate for the position of Admin and Finance Manager for its head office Lalitpur. Admin and Finance Manager work under direct supervision of Executive Director.
Sarbodaya Nepal is founded on the ten-year extensive works experience of Fondazione Un Raggio di Luce Onlus (FRL/ Italian Foundation) in 2014 and registered at CDO office Lalitpur, affiliated with SWC Nepal. It adopts empowerment, human rights-based, child centred, integrated and collaborative approach while designing and implementing humanitarian and development programs. At present Sarbodaya-Nepal is implementing projects in Jumla, Dolakha, Kavrepalanchok, Lalitpur, Kathmandu and Nuwakot districts.
The main purpose of this assignment is to provide leadership and technical services for overall administration and financial management of Sarbodya Nepal to ensure the compliances of finance and operation policy of Sarbodaya Nepal, to abide existing rules and regulation of Government of Nepal, standard accounting principles and partnership agreements with donors/supporters of Sarbodaya Nepal.
Position: Admin and Finance Manager
> Number of Vacancies: 1
> Job Location : Kathmandu, Nepal

Job Specification
Education Level : Bachelor


Experience Required : More than or equals to 5 years

Other Specification
Desired Qualification and Experiences:
> Education: University degree in Business administration and finance management related fields
> Experience: At least 5 years' experience administration and finance management in NGO sector
> Language proficiency: Good spoken and written English and Nepali languages
> Communication: Excellent inter-personal communication skills
> Computer proficiency: Able to use basic MS word, MS excel Power Point, and FAMAS accounting software
> Demonstrated interest in the field of development and work of Sarbodaya Nepal

Job Description
Administration and Finance Manager will work under Executive Director of Sarbodaya Nepal; the Finance Manager is expected to perform the following tasks:
> Lead the admin and financial activities of Sarbodaya Nepal
> Prepare Monthly and Quarterly Finance Statements required for donor/funding agencies ensuring whether the expenditure is in line with the approved budget breakdown and accounting principles
> Ensure the financial transactions, payments and procurements held as per organization policy and government regulations
> Verify the monthly or quarterly reconciliation report of bank account and expenditure for the reporting period
> Coach and train the Sarbodaya Nepal admin finance staff on accounting principles, entry of vouchers/transaction into FAMAS software and production of required financial reports and statements
> Develop necessary reporting formats for having sound finance management of organization in consultation to the Executive Director for its implementation
> Coordinate government line agencies, CSOs and other stakeholders
> Ensure annual planning, periodic review and timely reporting of the projects and organizational activities
> Other tasks as assigned by Executive Director with regards to financial reporting, verifications and accounting services


Deliverable:
> Monthly Financial Reports – along with verified finance statements and Bank Reconciliation Statements (BRS) and specific recommendations
> Timely report as per the donors requirements
> Maintain government compliances in financial and administrative activities.
> Maintain smooth coordination with government line agencies, civil society organizations and other stakeholders

Note:
> This position is for three years including three month initial probation period, will starts from November 01, 2019. The Admin and Finance Manager will report to Executive Director, and the benefits for this position will be as per the personnel policy of Sarbodaya Nepal.

HOW TO APPLY

Interested qualified and experienced individuals are request to apply at [email protected] and [email protected] , no later than 15th of October 2019. Telephone inquiries are strictly prohibited. Candidates from disadvantaged groups and women are encouraged to apply.