CAREER OPPORTUNITY AT EVEREST BANK LIMITED!!EVEREST BANK मा JUNIOR ASSISTANT को लागि जागिर खुल्यो। आजै APPLY गर्नुहोस्। Apply गर्नका लागि यहाँ क्लिक गर्नुहोस् !!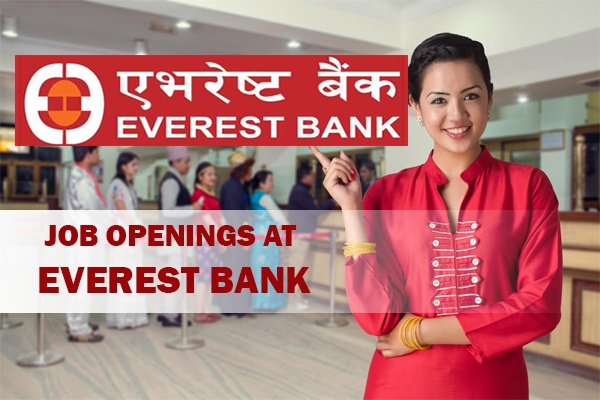 VACANCY ANNOUNCEMENT
Position Title: Junior Assistant
Applications are invited from qualified Nepalese citizens for Junior Assistant positions for following Gaunpalika branch locations.
Silinchong Gaupalika, Sankhuwasabha- (Requirement -1)
Mahakulung Gaupalika, Solukhumbu-(Requirement -1)
Surma Gaupalika, Bajhang-(Requirement -1)
Tolkot Gaupalika, Bajhang-(Requirement -1)
Kaada Gaunpalika– Bajhang-(Requirement -1)
Ellgibility Criteria:
At least bachelor degree with minimum 2nd division marks
Age not exceeding 28 years
Priority shall be given to those candidates who can speak and understand local language of that region
Only shortlisted candidates meeting the above criteria will be contacted for written exam and interview. The book reserve the right to reject any or all applications without stating any reason whatsoever.
Please apply within seven days to the following address along with the bio-data, credentials and copy of appointment letter and salary sheet if presently working:
Post Box No.13384, Kathmandu, Nepal
Email: [email protected]
Application Deadline : July 2, 2018.
This vacancy was announced in The Himalayan Times on June 27, 2018.