BANKING CAREER OPPORTUNITY!! Kailash Bikas Bankमा Junior Officer देखी Senior officer सम्मका लागि थुप्रै कर्मचारीको आवश्यकता। आजै Apply गर्नुहोस्।Click here to Apply!!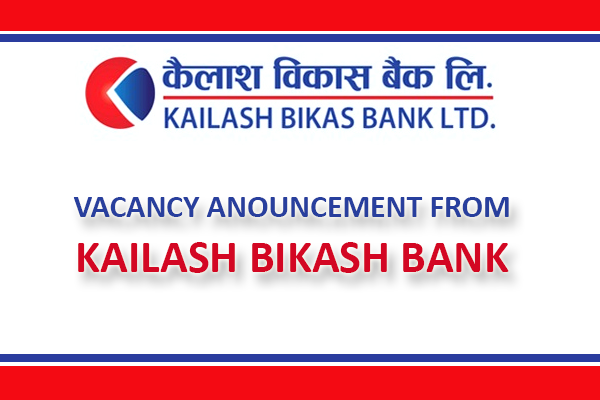 Kailash Bikas Bank Limited,a leading National Level Development Bank Which been rendering excellent services to its clients since 25 years is seeking application from dedicated and competent candidates to enhance business in line with the progressive
strategy of the Bank to sustain business practices and to deliver consistent growth. Deserving and Self Motivated candidates may apply for the position mentioned below:
Brnach Manager- Junior Officer/Officer/Senior Officer (Inside and outside Kathmandu Valley)
Work Experience
Candidates should have at least 5 years,banking experience with at least one year experience as Branch Manager.
Qualification: Master's Degree in Management or equivalent.
Behavioural Competences
Good communication, interpersonal and leadership skills.
Able to work and contribute in a team and be flexible.
Ability to lead the branch team smoothly.
Note: Candidates applying for the above position should not exceed 40 years of age as on June 27, 2018. position shall be negotiable for qualified and eligible candidates commensurable with their experience and expertise.
Individual wishing to apply for the position should fill up the online form and attach transcript of Bachelor degree(scanned copy) and CV/Resume with full details and PP size photo. Also, interested candidate can apply online via www.kailashbank.com/career.php
Application Deadline: 27th June, 2018
This vacancy was announced in The Himalayan Times on 13th June, 2018.