बैंकमा जागिर खाने अवसर!! Bank of Kathmandu ले Senior Assistant को लागि थुप्रै कर्मचारीको माग गरेको छ। आजै Apply गर्नुहोस्।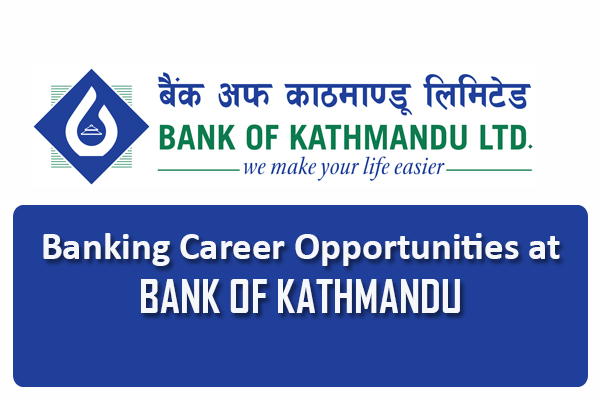 VACANCY ANNOUNCEMENT
Bank of Kathmandu Ltd. one of the largest private sector class 'A' commercial banks in Nepal, invites highly competent, self-motivated, skilled and career oriented Nepalese Citizens to apply for the following vacant position.
Position: Senior Assistant (FEW)
Eligibility Criteria:
Age Not exceeding 28 years (as of 5th July 2018)
Semi Qualified Chartered Accountants from ICAN/ ICAI
Application Process: Candidates meeting above criteria can submit their application via email at [email protected]
Candidates are required to submit the scanned copies of below mentioned documents:
Cover Letter
Updated curriculum vitae (CV) with a recent passport size photograph
Mark sheet and Transcript
Copy of Citizenship
Articleship Completion Certificate
CAP II / IPCC / CA Intermediate Completion Certificate
Applications without including necessary documents shall be automatically disqualified. Only short listed candidates will be called for further selection process.
The bank reserves the right to reject any/all applications without assigning any reasons whatsoever. Telephone enquiries will not be entertained.
Application Deadline: 5th July, 2018.
This vacancy was announced in Kantipur Dainik on June 21,2018.