Job Vacancy |USAID/Nepal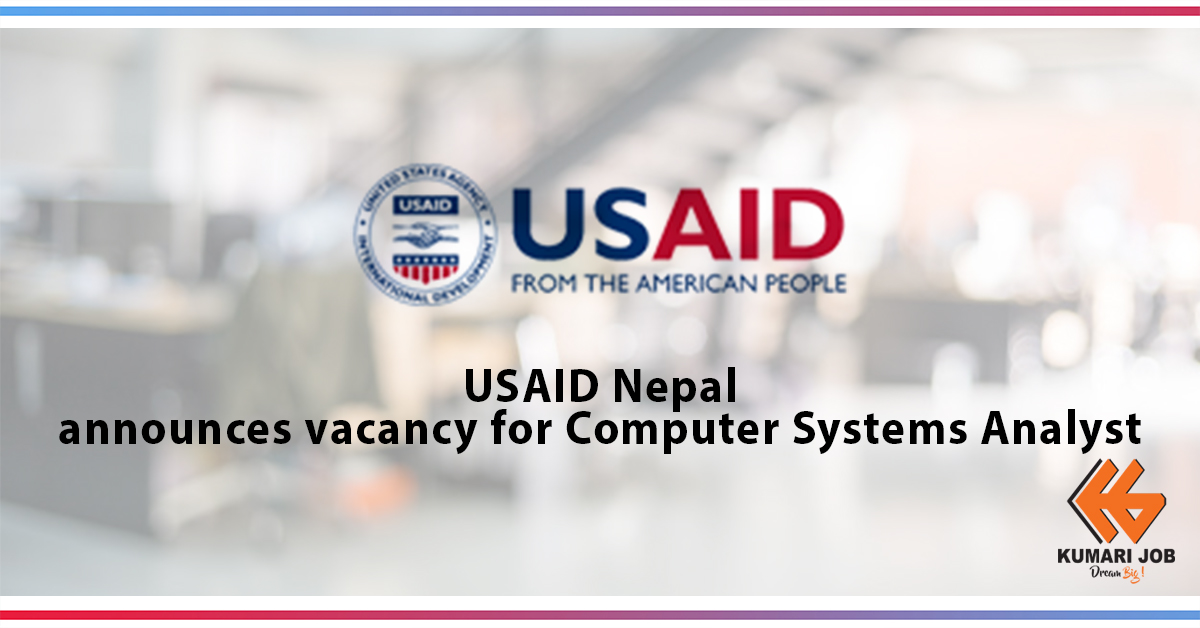 USAID/Nepal invites applications for employment from all interested and qualified candidates for the position of Computer Systems Analyst in the Executive Office, under a Foreign Service National (FSN) Personal Services Contract (PSC) subject to the availability of funds.
OPEN TO: All interested and qualified candidates
POSITION: Computer Systems Analyst – FSNPSC-10
OPENING DATE: May 11, 2022
WORK HOURS: Full-time; 40 hours/week
NOTE: ALL ORDINARILY RESIDENT APPLICANTS MUST HAVE THE REQUIRED WORK AND/OR RESIDENCY PERMITS TO BE ELIGIBLE FOR CONSIDERATION.
BASIC FUNCTION OF THE POSITION:
This position is responsible for the day-to-day management of the IT environment, including coordination with M/CIO, Washington, and oversight of USAID/Nepal's IT equipment. The job holder is responsible for the secure and effective operation of all computer systems, related applications, hardware, and software that is used within the mission. This includes the first line of support to users in mission standard Microsoft Windows applications like Microsoft office suite and Google Suite. This position also takes responsibility for several applications, including ASIST, GLAAS, E2, Phoenix, and WebTA. This position also supports Implementing Partners in managing their users, user roles, and access levels in the Development Information Solution (DIS). S/He is responsible for designing, developing, and managing Intranet websites and Dashboards. S/he will be responsible for the installation, monitoring, and analysis of servers and client software. S/He will participate in the implementation and monitoring of various telecommunications links, including ISP fiber optic links, MPLS (Multi-Protocol Label Switching) Circuits, VOIP, VPN (Virtual Private Network), and Dynamic VPN. S/He performs various communications-related duties and develops procedures to maintain information systems. S/He participates in Mission LAN/WAN operations and maintenance. The job holder is also responsible for maintaining system infrastructure, including firewalls, Routers, and Access Switches, testing computer equipment, backing up systems, installing and updating malware software, installing, and rebuilding existing servers as well as other processes. S/he will help the Computer Management Specialist (Systems Manager) and M/CIO to resolve incidents or events related to systems and supporting infrastructure.
REQUIRED QUALIFICATIONS:
Education: A Bachelor's degree in the field of Computer Science is required.
Prior Work Experience: Five years of responsible experience with exposure to complex computer operations in a LAN/WAN environment is required.
Post Entry Training: Rules of behavior, ADS-545, Information System Security, and other on-the-job training to familiarize the job holder with USAID's IT system will be provided.
Language Proficiency: Level IV (Fluent) Speaking/Reading/Writing English and Nepali is required.
Job Knowledge: Advanced knowledge of the latest IT technologies and telecommunications equipment. Expertise in the use and application of standard off-the-shelf software packages and operating systems e.g. Windows workstations and Windows Server OS is essential. Configuration and support knowledge on iPhones is required. Concepts of systems analysis and design, network management, and operations are required.
Skills and Abilities: Analytical skills in the application of IT tools and resources to resolve problems are required. Strong Technical Skills and knowledge of Databases are required. Expertise in Network Access Switches, routers,s, and other network and system monitoring tools is required. The ability to work well under pressure, attention to detail, teamwork, and time management skills are required. Strong interpersonal skills in dealing with internal and external customers and users and user problems are essential.
The job holder through orientation and training must be able to promote a work environment that fosters respect for each other, equity, diversity, and inclusion and that does not tolerate harassment, exclusion, and inequality. The Analyst must have demonstrated leadership in integrating and achieving equity, diversity, and inclusion in their area of work in development programming and in the workplace.
A detailed job description for the position can be obtained by visiting USAID/Nepal's website at http://www.usaid.gov/nepal/careers or by requesting USAID/Nepal's Human Resources Office (USAIDNepalHR@usaid.gov).
Interested applicants should submit a cover letter and a resume – not to exceed 3 pages – and any other documentation that addresses the qualification requirements of the position as listed in the full job description.
Please provide the names of three references and their contact numbers and email addresses as well. Please send your application to the attention of USAID/Nepal Human Resources Office, U.S. Embassy Maharajgunj, G.P.O. Box. 295, Kathmandu, Nepal. Applications may be sent electronically to: USAIDNepalHR@usaid.gov
Only short-listed applicants will be contacted to participate in the hiring process.
USAID/Nepal is an equal opportunity employer committed to a staff composition that reflects the social and ethnic diversity of Nepali society. We believe that social inclusion and diversity contribute to excellence. USAID/Nepal makes hiring decisions without regard for gender, gender identity, caste, race, ethnicity, disability, marital status, age (if over 40), or sexual orientation. Applicants from ALL backgrounds are encouraged to apply.
CLOSING DATE: May 25, 2022 – 5:00 P.M. Kathmandu time
To apply for this job please visit www.usaid.gov.