FORUM-ASIA is looking for a Fellow for its South Asia Programme in Kathmandu, Nepal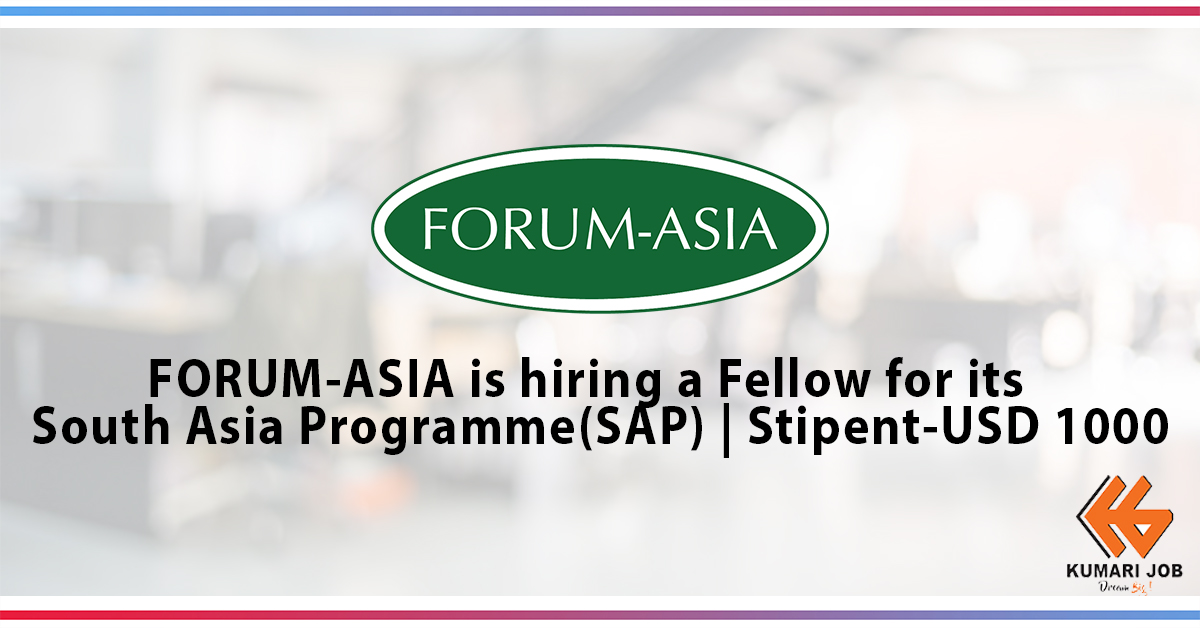 Position: South Asia Programme (SAP) Fellow
Location: Kathmandu, Nepal
(Unless already based in Nepal, the fellow is expected to work remotely from their home country, until the travel restrictions are eased)
Fellowship Duration: 6 months, starting 1 April 2021
Remuneration: USD 1000 stipend per month
Closing date: 5 March 2021, midnight Bangkok Time (UTC+7)
Interview Dates: From 11 March 2021
Summary of the Programme
South Asia Programme, as one of the two sub-regional country programmes, provides support for and facilitates communication and cooperation among member organisations in South Asia. Besides, the Programme conducts and coordinates thematic and country campaigns and advocacy at the South Asian level in cooperation with other related programmes within the FORUM-ASIA Secretariat.
Roles and Responsibilities
General tasks and activities of Fellowship
Monitoring and documenting the human rights situation in South Asia;
Assist in the implementation of the projects by the South Asia Programme;
Organise, facilitate, and participate in missions, forums, meetings and training as necessary and planned;
Prepare public statements, commentaries and/or articles as part of the projects;
Assist in the overall monitoring and evaluation of activities and the project budgets;
Assist in coordinating with other programmes within FORUM-ASIA on South Asia programme's tasks; and
Any other tasks according to personal capacity and programme's needs, including administration, logistics, and documentation work.
Basic Qualifications and Criteria
Education:
Bachelor's degree or advanced degree in international law, political/social sciences, development or relevant field.
Selection Criteria:
Essential
Knowledge of human rights situation in South Asian countries
Some practical knowledge of international human rights standards, mechanisms
Some experience in organising or planning meetings/conferences or campaigning
Excellent report writing and analytical skills
Excellent research and drafting skills including a basic understanding of research methodology
Excellent command of written and spoken English
Ability to multi-task, solve problems, and work in a multicultural team
Ability to work under pressure and meet team deadlines and ability to work independently
Desirable
At least six months to 1 year of work experience on development and/or human rights issues in a national/regional/international organization, preferably in South Asia
Fluency in one of the South Asian languages
Previous research experience and/or publications in law, human rights, social sciences or development.
Application Procedure
Interested applicants are requested to submit the following:
A copy of your completed Fellowship Application Form
A resume and cover letter(both in PDF files) explaining why you are interested in the fellowship
Completed applications must be sent to [email protected] before 5 March 2021, midnight Bangkok Time (UTC+7), with the subject: South Asia Fellowship Application_NAME" (e.g. South Asia Fellowship Application_Your Full Name) in the subject line.
Late applications will not be considered, and only shortlisted candidates will be notified of the outcome of the selection.