बहिर्मुखी र अन्तर्मुखी व्यक्तित्व भएकाले रोज्नु पर्ने रोजगारी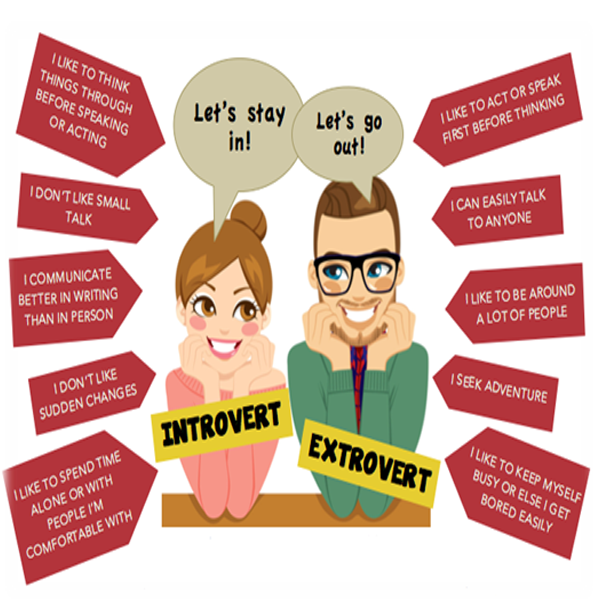 Generally human beings are social in nature. However some individual depending upon their interaction in the society are introvert (अन्तर्मुखी) and extrovert (बहिर्मुखी) in nature.
Introvert feel the need of alone time to re energizes them. And very few of the organization allow jobs for introverts as they love to work in solitude (एकान्त) without interaction to the outside world. As a result they find difficult to find their ideal jobs that suits their personality traits (व्यक्तित्व गुण). Whereas extrovert derive pleasure and positive energy interacting with strangers or close friends and they have greater quality of future ahead. Below are 9 major career option, former 5 are for introverts and later 4 for extrovert.
Computer programmer:
This job demands to work on your computer, you can isolate yourself inside the boundaries of four walls or in a cubicle in the office or work at home.
Graphic designer:
Introverts are no less creative persons then extroverts.Many introverts look for a perfect job to explore their creative ideas through non-verbal mediums and graphic design is best for them.
Financial Analyst:
Financial Analyst can be a good option for introverts who have intelligent and keen interest in stock markets. It includes analyzing the market trends, bond and stocks which requires no interaction with people.
Technical writer:
Introverts often love writing as it's their best means to share their expressions. If you are introvert and you have good writing skills and techniques then technical writer is an ideal option.
Accountant:
By nature introverts are flourished in using excel in accountancy and prefer to work to increase their friend-circle.
Urban planner:
It involves working to build the communities. They aim to utilize available resources at optimum through interacting with individuals. They have autonomy to translate their vision in reality which involves proper understanding of people.
Sales Representative:
If you are a people person and love interacting with them then selling a product isn't a difficult task for you.
Public Relations Support:
A job of PR specialist is to create buzz marketing of the company's brand, product and organization itself. And your strategy should involve participating in seminars, campaign, getting touch with business tycoons as per your nature of outgoing.
Counselor:
If you are an Extrovert you have good convincing power empathy and wise to show your best. And these are characteristics of good counselor that any business house aspires to have.
Shout out your comment or any suggestions below. Let us know !!