Tourism in Nepal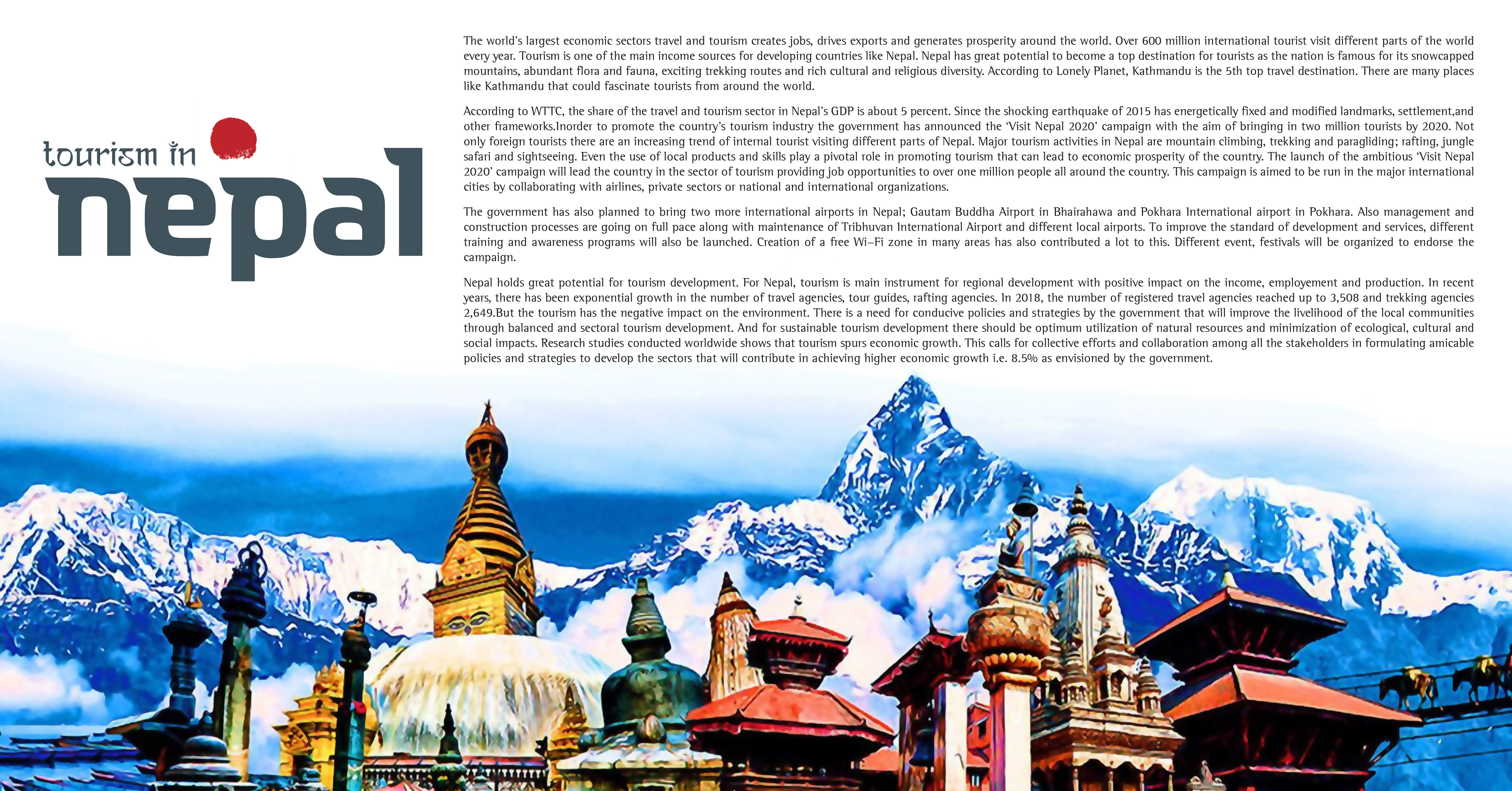 Tourism In Nepal
The world's largest economic sectors travel and tourism creates jobs, drives exports and generates prosperity around the world. Over 600 million international tourists visit different parts of the world every year. Tourism is one of the main income sources for developing countries like Nepal. Nepal has great potential to become a top destination for tourists as the nation is famous for its snowcapped mountains, abundant flora and fauna, exciting trekking routes and rich cultural and religious diversity. According to Lonely Planet, Kathmandu is the 5th top travel destination. There are many places like Kathmandu that could fascinate tourists from around the world.
According to WTTC, the share of the travel and tourism sector in Nepal's GDP is about 5 percent. Since the shocking earthquake of 2015 has energetically fixed and modified landmarks, settlement, and other frameworks. In order to promote the country's tourism industry, the government has announced the 'Visit Nepal 2020' campaign with the aim of bringing in two million tourists by 2020. Not only foreign tourists there is an increasing trend of internal tourists visiting different parts of Nepal. Major tourism activities in Nepal are mountain climbing, trekking, and paragliding; rafting, jungle safari, and sightseeing. Even the use of local products and skills plays a pivotal role in promoting tourism that can lead to the economic prosperity of the country. The launch of the ambitious 'Visit Nepal 2020' campaign will lead the country in the sector of tourism providing job opportunities to over one million people all around the country. This campaign is aimed to be run in the major international cities by collaborating with airlines, private sectors or national and international organizations.
The government has also planned to bring two more international airports in Nepal; Gautam Buddha Airport in Bhairahawa and Pokhara International airport in Pokhara. Also, management and construction processes are going on full pace along with maintenance of Tribhuvan International Airport and different local airports. To improve the standard of development and services, different training and awareness programs will also be launched. The creation of a free Wi-Fi zone in many areas has also contributed a lot to this. The different events, festivals will be organized to endorse the campaign.
Nepal holds great potential for tourism development. For Nepal, tourism is the main instrument for regional development with a positive impact on income, employment, and production. In recent years, there has been exponential growth in the number of travel agencies, tour guides, rafting agencies. In 2018, the number of registered travel agencies reached up to 3,508 and trekking agencies 2,649. But tourism has a negative impact on the environment. There is a need for conducive policies and strategies by the government that will improve the livelihood of the local communities through balanced and sectoral tourism development. And for sustainable tourism development, there should be optimum utilization of natural resources and minimization of ecological, cultural and social impacts. Research studies conducted worldwide show that tourism spurs economic growth. This calls for collective efforts and collaboration among all the stakeholders in formulating amicable policies and strategies to develop the sectors that will contribute to achieving higher economic growth i.e. 8.5% as envisioned by the government.