Vacancy Announcement from Embassy of Switzerland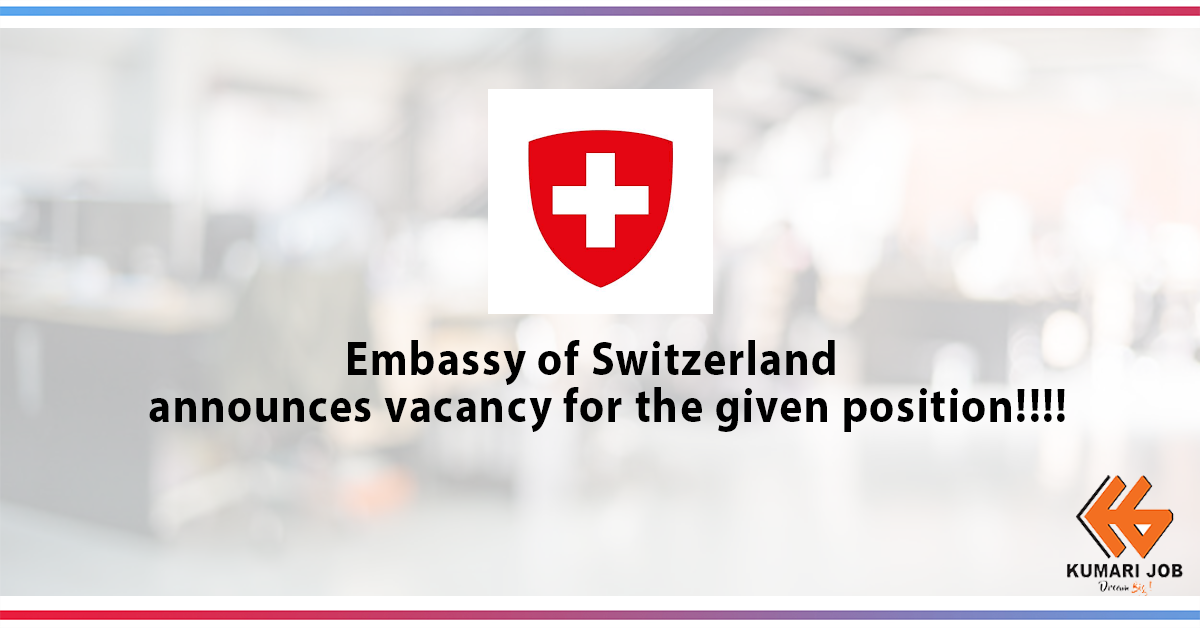 Embassy of Switzerland
Switzerland through its development cooperation has been engaged in Nepal since 1959. With the establishment of its Embassy in Nepal in August 2009, Switzerland's assistance in Nepal continues to focus on federal state-building, employment and income through agriculture, rural infrastructure, and vocational skills, as well as migration. Switzerland is committed to supporting Nepal's socio-economic development and federal state building at the national, provincial and local levels.
Position: Senior Executive Office Manager
The Senior Executive Office Manager directly reports to and is responsible for the overall management of the office of the Ambassador/Head of Mission in managing:
Contact with Swiss Federal Department of Foreign Affairs (FDA) and external stakeholders (e.g. other diplomatic missions, international development agencies, offices of the Government of Nepal, etc)
The day-to-day calendar and associated services;
Drafting of communications on behalf of the Ambassador addressed to the Swiss colony in Nepal as necessary in coordination with the Consular Section.
Required Technical Competence
Master's degree in Business Studies/Business Management, or other relevant field; Diploma in Secretarial Science; At least 3 years professional experience in the relevant field with proven capacity for taking charge of clearly demarcated duties with high degree of responsibility; Excellent spoken and written English and Nepali; Excellent Knowledge of Protocol; Excellent communication skills, including ease of communication with diplomatic missions and offices of the Government of Nepal; Excellent knowledge and aptitude of computer and different software applications; Excellent organizational skills.
Required Professional/Personal and Social Competence
High degree of personal responsibility, pro-active, ability to take initiative and work autonomously, ability to think ahead, assure confidentiality and professional integrity; Focused on objectives and results and the ability to cope with stressful situations; Pronounced ability for self-reaction and proven capacity for learning and changing the way of thinking and working; Conceptual and analytic abilities; Good Interpersonal skills; Courtesy and Customer orientation; Time management and task prioritization; Ability to make decisions and to implement them, goal-oriented, thinking out of the box, ability to initiate changes and manage them; Ability to set clear priorities; Good team player, networking skills, negotiation skills, ability to deal with criticism and conflicts; Process management skills; ability to negotiate and mediate; Aware and sensitive in areas of gender and caste/ethnicity issues, and ability to work in a multi-cultural team
HOW TO APPLY
Application in English with immediate contact address and a telephone number; an updated bio-data; copies of citizenship certificate and academic credentials; and reference from former employer(s) through post or through email as an attachment (please do not provide a link to google drive or any cloud server) at [email protected]. Please clearly mark "Application for Senior Executive Office Manager" on the envelope/subject of the email.
Head
Personnel and Administration (Chancery)
P.O. Box 113
Kathmandu, Nepal
Only shortlisted candidates will be contacted. The Embassy reserves the right to reject any or all applications without assigning any reasons.
Last date to Apply: 20th March 2020