Vacancy Announcement | Civil Laghubitta Bittiyasanstha Limited | Bank Job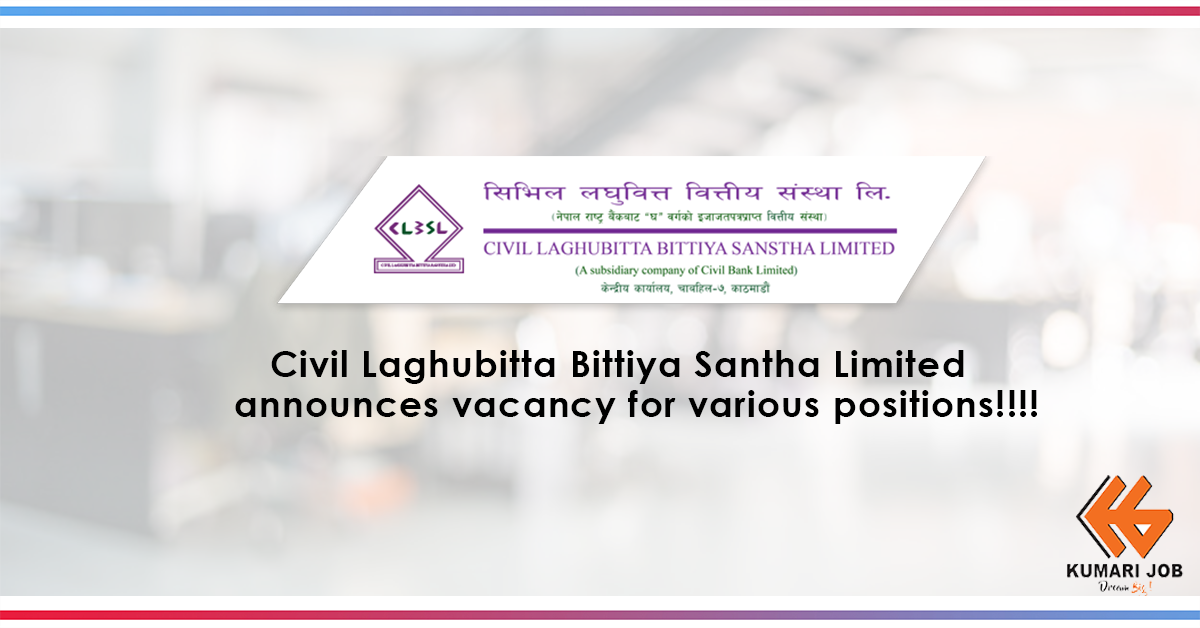 Civil Laghubitta Bittiya Sanstha Limited, a Subsidiary Company of Civil Bank Limited was incorporated as a public limited company on 1st Chaitra 2067 (15 March 2011) under the Companies Act of Nepal. The Company got the business operating license from Nepal Rastra Bank to conduct micro-finance activities as a 'D' class financial institution on 7th Baishak 2069 (19 April 2012). The Company started its operation from 21 Ashad 2069 (05 July 2012). The Company has its registered Head office at Chabahil, Kathmandu, Nepal.
It has been established with a motive to provide qualitative and reliable financial services in a healthy competitive environment. Its goal is to provide financial tools and resources in the form of micro-credits for establishing, running, developing, expanding as well as enhancing the capacity and productivity of potential productive sectors from the business point of view. Its aim is to effectively regulate the available competency, labor and capital in the rural sector to establish, run, develop, expand as well as promote products and employment-generating business and actively participating & helping in eliminating poverty. It focuses on helping the women and unemployed youngsters of the rural sector for improving economic and social status through microcredit, training and public awareness. Its main focus is on uplifting the lifestyle of the people of the deprived sector who have very little access to banking facilities and helping for the overall development of the economic sector of the country as a whole.
Position: Junior Assistant
Number of Vacancies: Few
Qualification: SLC/SEE
Position: Senior Assistant/Assistant
Number of Vacancies: Few
Qualification: +2 Pass or SLC/SEE with 2 years experience
Position: Junior Officer
Number of Vacancies: Few
Qualification: Bachelors Pass with 2 years experience or +2 Pass with 3 years experience
HOW TO APPLY
Civil Laghubitta Bittiya Sanstha Limited
Chabahil, Kathmandu, Nepal
Website: [email protected]
Last date to apply: 17th January 2020
View official notice for more details and application procedure below: