INGO Job | PACT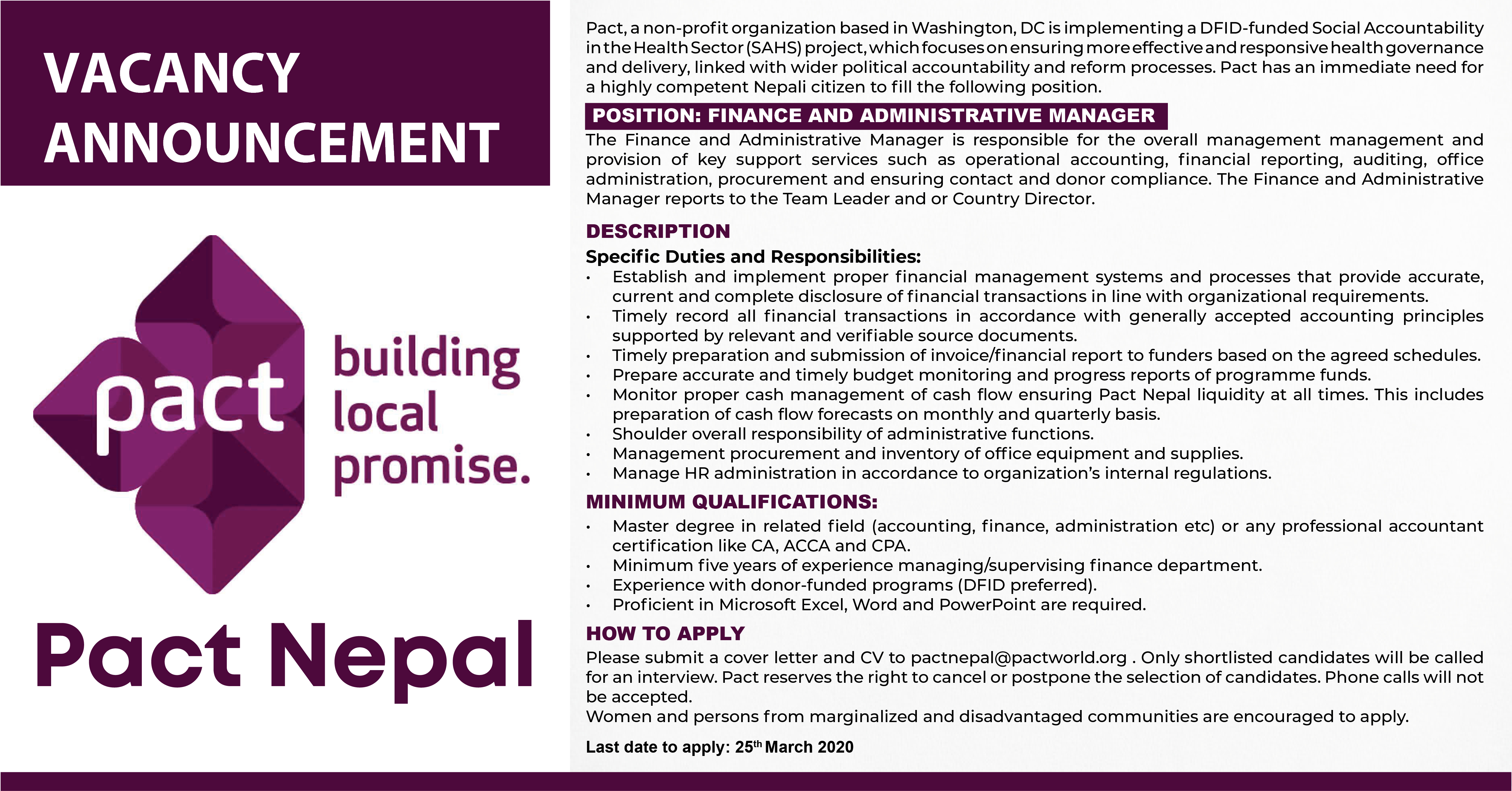 VACANCY ANNOUNCEMENT
Pact Nepal
Pact, a non-profit organization based in Washington, DC is implementing a DFID-funded Social Accountability in the Health Sector (SAHS) project, which focuses on ensuring more effective and responsive health governance and delivery, linked with wider political accountability and reform processes. Pact has an immediate need for a highly competent Nepali citizen to fill the following position.
Position: Finance and Administrative Manager
The Finance and Administrative Manager is responsible for the overall management and provision of key support services such as operational accounting, financial reporting, auditing, office administration, procurement and ensuring contact and donor compliance. The Finance and Administrative Manager reports to the Team Leader and or Country Director.
Description
Specific Duties and Responsibilities:
Establish and implement proper financial management systems and processes that provide accurate, current and complete disclosure of financial transactions in line with organizational requirements.
Timely record all financial transactions in accordance with generally accepted accounting principles supported by relevant and verifiable source documents.
Timely preparation and submission of invoice/financial report to funders based on the agreed schedules.
Prepare accurate and timely budget monitoring and progress reports of program funds.
Monitor proper cash management of cash flow ensuring Pact Nepal liquidity at all times. This includes the preparation of cash flow forecasts on a monthly and quarterly basis.
Shoulder overall responsibility of administrative functions.
Management procurement and inventory of office equipment and supplies.
Manage HR administration in accordance with the organization's internal regulations.
Minimum Qualifications:
Master degree in a related field (accounting, finance, administration, etc) or any professional accountant certification like CA, ACCA and CPA.
Minimum of five years of experience managing/supervising the finance department.
Experience with donor-funded programs (DFID preferred).
Proficient in Microsoft Excel, Word and PowerPoint are required.
HOW TO APPLY
Please submit a cover letter and CV to [email protected]. Only shortlisted candidates will be called for an interview. Pact reserves the right to cancel or postpone the selection of candidates. Phone calls will not be accepted.
Women and persons from marginalized and disadvantaged communities are encouraged to apply.
Last date to apply: 25th March 2020