Hype of online shopping in Kathmandu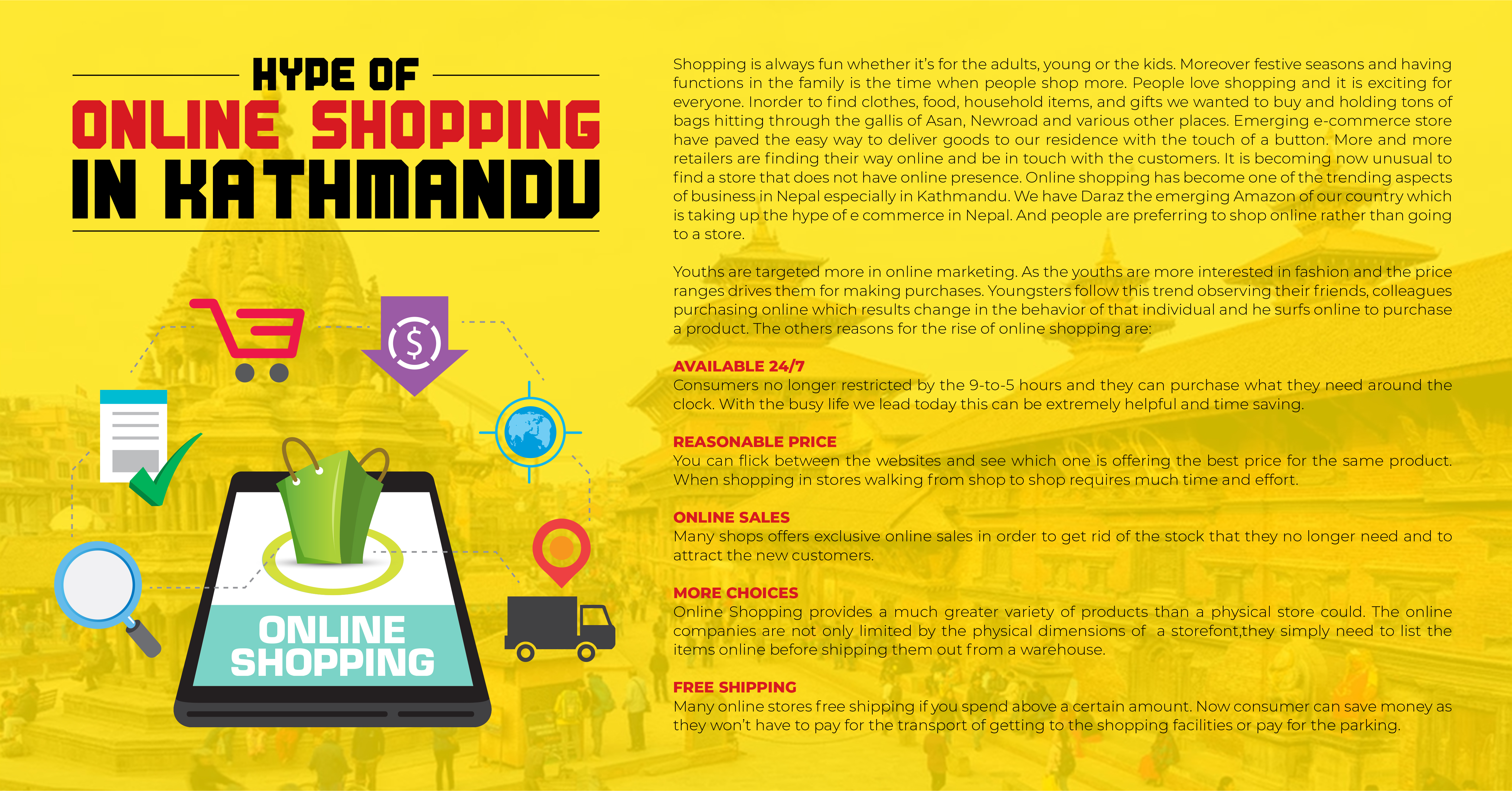 Hype of Online Shopping in Kathmandu
Shopping is always fun whether it's for the adults, young or kids. Moreover festive seasons and having functions in the family is the time when people shop more. People love shopping and it is exciting for everyone. In order to find clothes, food, household items, and gifts we wanted to buy and holding tons of bags hitting through the gallis of Asan, Newroad and various other places. The emerging e-commerce store has paved the easy way to deliver goods to our residence with the touch of a button. More and more retailers are finding their way online and be in touch with customers. It is becoming now unusual to find a store that does not have an online presence. Online shopping has become one of the trending aspects of business in Nepal, especially in Kathmandu. We have Daraz the emerging Amazon of our country which is taking up the hype of e-commerce in Nepal. And people are preferring to shop online rather than going to a store.
Youths are targeted more in online marketing. As the youths are more interested in fashion and the price ranges drive them for making purchases. Youngsters follow this trend observing their friends, colleagues purchasing online which results in a change in the behavior of that individual and he surfs online to purchase a product. The other reasons for the rise of online shopping are:
Consumers no longer restricted by the 9-to-5 hours and they can purchase what they need around the clock. With a busy life, we lead today this can be extremely helpful and time-saving.
You can flick between the websites and see which one is offering the best price for the same product. When shopping in stores walking from shop to shop requires much time and effort.
Many shops offer exclusive online sales in order to get rid of the stock that they no longer need and to attract new customers.
Online Shopping provides a much greater variety of products than a physical store could. The online companies are not only limited by the physical dimensions of a storefront, they simply need to list the items online before shipping them out from a warehouse.
Many online stores free shipping if you spend above a certain amount. Now the consumer can save money as they won't have to pay for the transport of getting to the shopping facilities or pay for the parking.