How to make yourself the most likely to get selected for a job?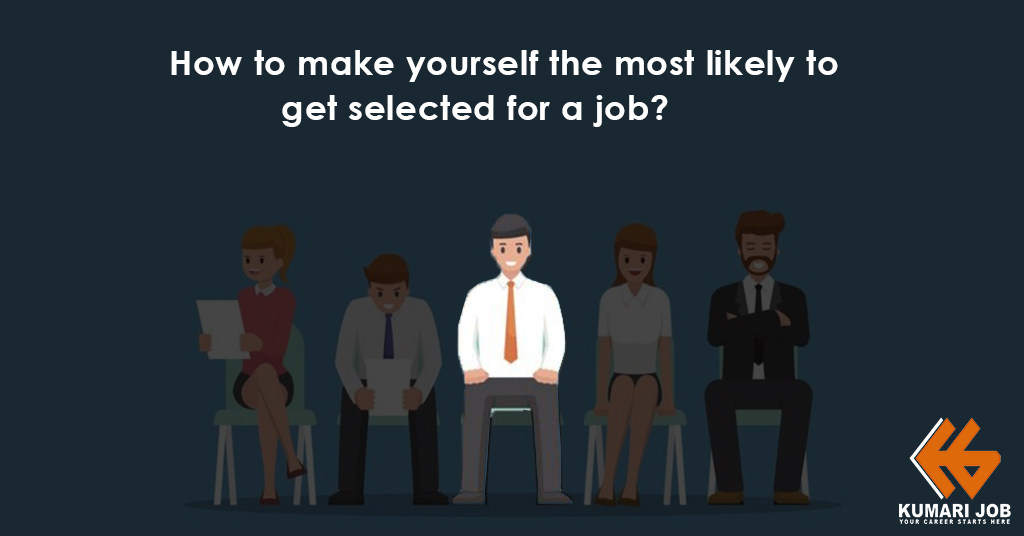 You need to be firm and confident while presenting yourself in an interview. You need to create an impression among the employers and recruitment team to get an edge over the other candidates. You can have a look at the following on how to make yourself the most potential one.
Presenting yourself in person:
Conquering the job interview Once you've acquired an invitation to interview, you've already captivated the employer on paper. To present yourself nice and well in the interview and obviously make a good impression on the employer, you should:
Plan on how you meet the employer's requirements
You perhaps spent a lot of time working with the job details when you combine your cover letter and resume. Now that you've got an interview, you'll want to review it. Give a close attention to the qualifications, skills and job duties. These are essentially the lists of the employer's requirement.
Three ways to get ready for the interview:
These are how you can make yourself the best among the rest:

a. Research the organization

b. Watch closely the talking points
For example, the narratives that illustrate your most specific and prominent skills. It's fine
that you bring in your resume and portfolio with you just to catch the eye of the employer or the recruiter.
Figure out the common interview questions
Here are a few:
Tell me about yourself:
Don't assume the recruitment team to remember the details and of your resume. They won't summarize your accomplishments, your work, and skills.

Why do you want to work for our company / organization?

Why do you want this role / position?

What are your strengths and weaknesses?

Can you tell us about your previous company and your role there

c. Prepare your own questions
Just like a handshake or a warm greeting, a one-sided interview is not that fun! The hiring team wants to look and hear your questions as well. They want to see whether you're actively engaged in learning more about the organization, culture and position.