The United Nations Development Porgramme (UNDP) Announces Vacancy For Administrative Assistant | द युनाइटेड नेसन डेभलोप्मेंट प्रोग्रामद्वारा Administrative Assistantको पदमा रोजगारको अवसर !!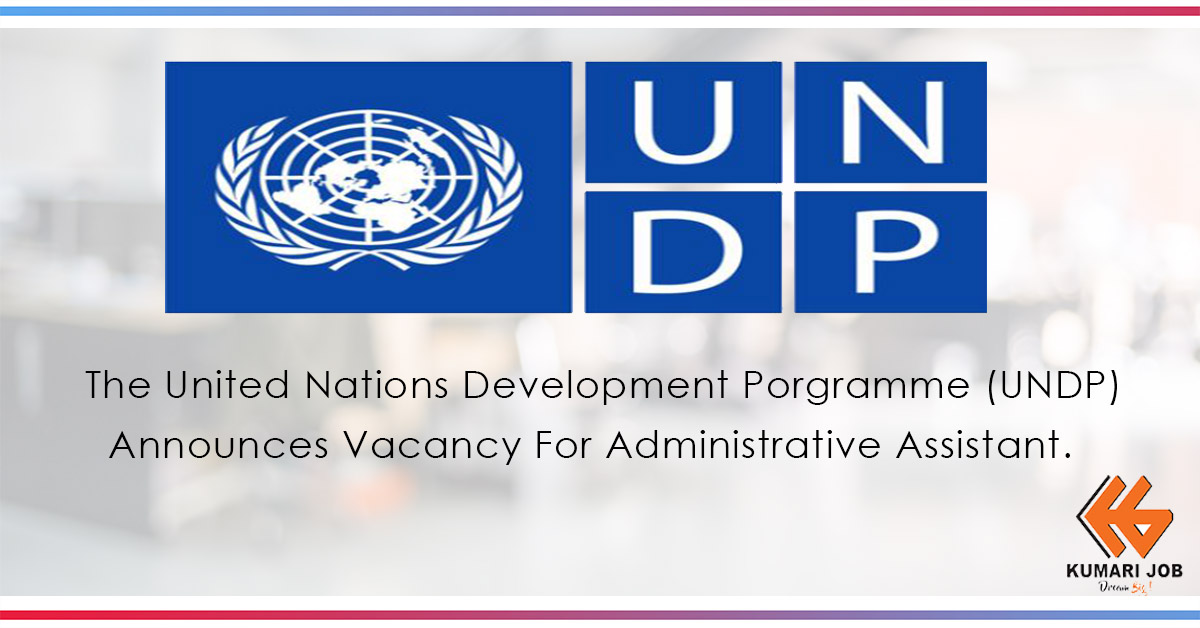 The United Nations Development Porgramme (UNDP) Nepal works with the people ad Government of Nepal, and other development partners to pursue equitable and sustainable human development goals through eradication of poverty, increase in livelihood opportunities, improvement in community resilience against conflict, disasters and impact of climate change, while laying down strong foundations for a society based on rule of law with an inclusive and participatory democracy.
Position: Administrative Assistant
Duty Station: Kathmandu, Nepal

Background
This position is located in the United Nations Regional Centre for Peace and Disarmament in Asia and the Pacific (UNRCPD) that is organizationally a part of the UN Office for Disarmament Affairs (ODA). In line with the Women, Peace and Security agenda and within the ODA's project in support of gender-mainstreamed policies, programmes and actions in the fight against trafficking and misuse of small arms, UNRCPD will carry out a series of activities in the Asia-Pacific region with the objective of supporting States in the region in their efforts to develop and implement gender-responsive small-arms control policies. The programme is funded by the European Union.
The Administrative Assistant will support the organization of the events by performing a variety of standard administrative activities under the guidance and supervision of the Finance Associate of UNRCPD and in close collaboration with the Regional Project Coordinator on Gender and Small Arms and Light Weapon (SALW).
Duties and Responsibilities
The Project Administrative Assistant will assist in the organization of a regional seminar in Kathmandu and at least twelve national events on gender-responsive small-arms control in six selected countries of the Asia-Pacific region by providing the administrative and logistic support that would include but not limited by the following functions:
> Contribution to the effectiveness and efficiency of UNRCPD by providing administrative support and specialized assistance to more senior staff in the assigned areas of responsibility;
> Preparation in advance of correspondence, administrative, outreach and other materials for the participants as required;
> Serve as contact person on administrative and logistical issues and liaise with national focal points and Nepali officials on administrative matters related to the project events;
> Support the organization of conferences, workshops and other Centre's project activities including conducting travel itineraries research for UNRCPD staff and international participants, collecting quotations for identifying venue for the events, and preparing respective documents for placing them in Umoja;
> Participate in and assist during the regional seminar in Kathmandu and national events as appropriate;
> Prepare administrative and financial reports of the events, and assist regional project coordinator in dissemination of outreach information;
> Support the preparation of the UNRCPD publication on outcomes of the regional project on "Gun violence and illicit SALW from the gender perspective" and outreach information as appropriate;
> Assist the admin and finance staff of the Centre in other UNRCPD-related administrative, procurement and logistic operations and collaborate with the ODA's Executive Office.
Education:
> Completion of Higher Secondary education.

Experience:
> 5 years of relevant administrative experience;
> Experience in the usage of computers and office software packages (MS Word, Excel, etc.);
> Experience in handling of web-based management systems.


Language Requirements:
> Fluency (written and oral) in English and Nepalese languages.

Application Deadline: 10 October 2019
To Apply Please Go Through The Link Mentioned Below:
( http://bit.ly/2m0Ru90 )