Swabalamban Laghubitta Bittiya Sanstha Ltd.announces vacancy for 50 Trainee Assistant.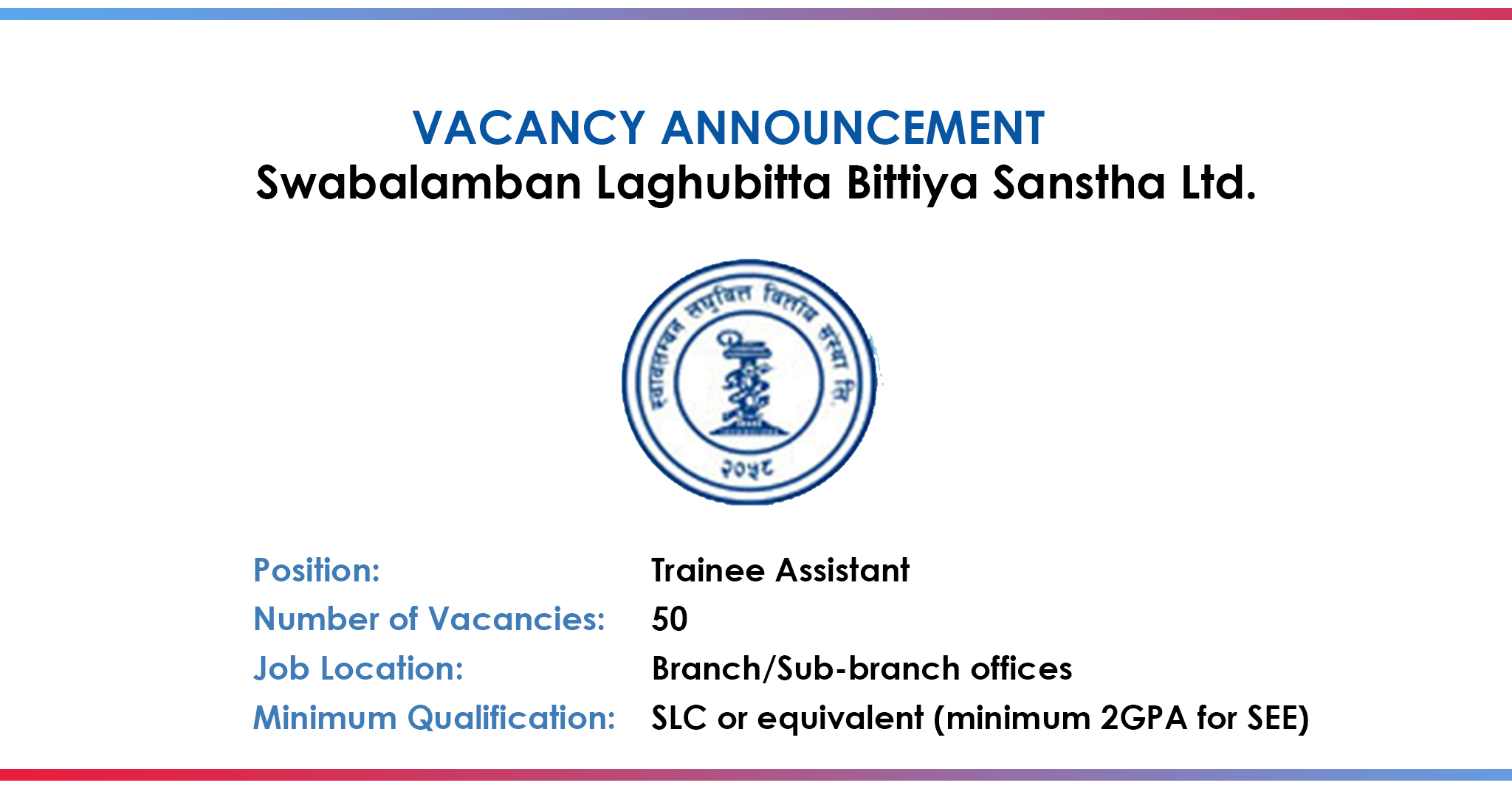 Bank Job: Trainee Assistant, 50 Vacancies
VACANCY ANNOUNCEMENT
Company: Swabalamban Laghubitta Bittiya Sanstha Ltd.
Position: Trainee Assistant
Advertise Number: 4/075/76
Number of Vacancies: 50
Job Location: Branch/Sub-branch offices
Minimum Qualification: SLC or equivalent (minimum 2GPA for SEE
Experience / Skills: Basic Computer Training (3 months / 75 days / 180 hours) or having Computer Science for 100 marks in SEE/SLC exam.
Age: 18 to 35 years old (+5 for female candidates)
Selection Process: 1) Written Exam 2) Field Concept 3) Computer Skill Test (Word, Excel, PowerPoint, Email, Internet) 4) Interview
---
Required Documents:
a) An application
b) Bio-data
c) 2 copies of recent photograph
d) Copies of educational/training and experience certificates
Note: Applicant must write the Advertise Number at the outside of envelope.
Last date to apply: 9 July 2019
HOW TO APPLY
Please send/submit your completed application to one of the following addresses
Swabalamban Laghubitta Bittiya Sanstha Ltd., Baluwatar, Kathmandu, Branch/Sub-branches:
Birtamode- Jhapa 023-543484
Itahari-Sunsari 025586461
Lahan-Sirha 033-560383
Bardibas- Mahottari 044-550206
Birgunj- Parsa 051-528623
Taplejung- Taplejung 024-460792
Fidim- Panchthar 024-520512
Ilam- Ilam 027-521664
Fikal- Ilam 027-540446
Myanlung- Terhathum 026-460585
Hile -Dhankuta 026-540099
Okhaldhunga- Okhaldhunga 037-520522
Manebhanjyang- Okhaldhunga 037-410081
Saleri -Solukhumbu 038-520485
Manthali -Ramechhap 048-540274