Kamana Sewa Bikas Bank Limited Announces Vacancy Openings At Different Positions | कामना सेवा बिकाश बैंक लिमिटेडद्वारा विभिन्न तहमा कर्मचारीको माग !!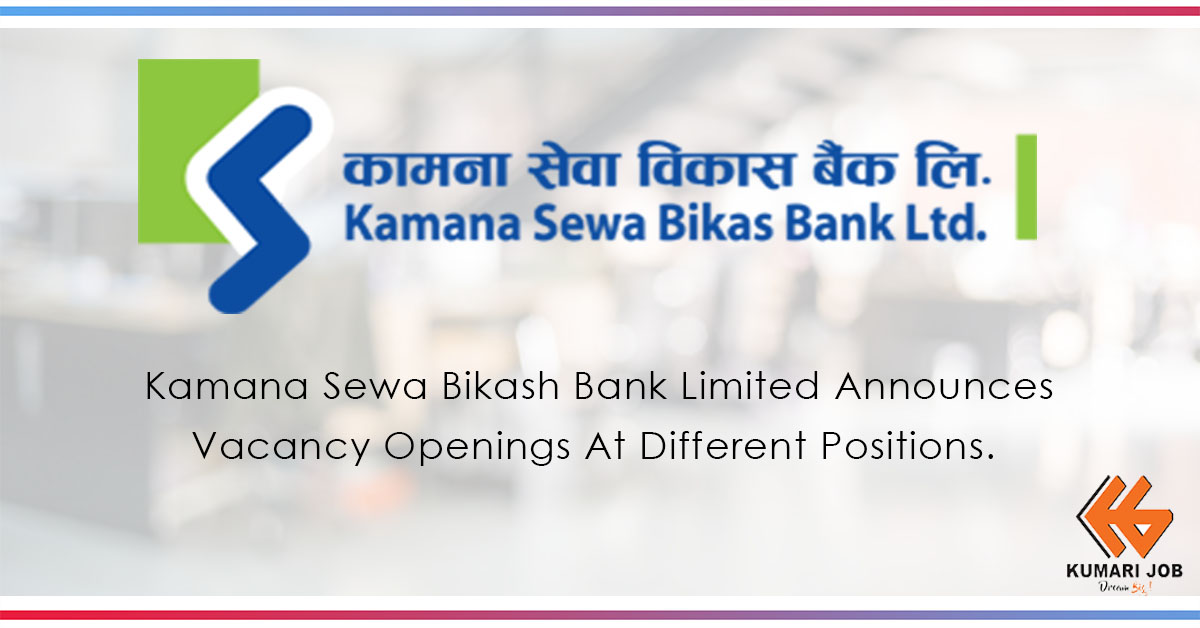 VACANCY ANNOUNCEMENT
Kamana Sewa Bikas Bank Limited, a National Level Development Bank with Ninety-Nine branches in operation throughout the country and another upcoming seventeen branches is poised to become one amongst the leading Development Banks in the country. To achieve this strategic goal, it invites applications from qualified Nepalese citizens looking for dynamic career in the following roles:
1. Information Security Officer (ISO)- Junior Officer to Senior Officer-1
> Minimum Bachelor's Degree or equivalent in Information Technology, Computer Science, or related subject. Candidate with Certification like CISM/CISA/CISSP/CEH is desirable
> Minimum of 3 years of experience in information Security (Preferably in Banking Sector) in IT Security and Risk Management, Security Policy Development and Implementation, Vendor Negotiation, Vulnerability and Compliance Management, Service Level Agreement (SLA) Management, Assets Identification and Management, Disaster Recovery and Business Continuity Planning.
> Age not exceeding 35 years
2. IT Department- Business Intelligence Specialist-1
> Minimum Bachelor's Degree or equivalent in BE, BIT, BCA, BIM or equivalent education from recognized university.
> Minimum of 3 years of experience in database development and support in MS SQL Server environments for banking software Pumori.
> SQL Development- ability to write and troubleshoot SQL Code and design (stored procs, functions, tables, views, triggers, indexes, constraints).
3. Legal Department- Senor Assistant to Officer- Few
> Minimum academic qualification of LLB
> Minimum of 2 years of experience. Preference shall be given to candidate having prior work experience in law firm or BFIs
> Age not exceeding 35 years.

The Bank reserves right to accept or reject any or all applications without assigning any reason whatsoever. Only candidates getting through initial screening will be contacted for further selection process. Canvassing at any stage of the process shall lead to disqualification.
Application Deadline: 6 November 2019