CAREER OPPORTUNITY AT SIDDHARTHA BANK !! Siddhartha Bank ले छुट्टा छुट्टै प्रदेशमा बिभिन्न पदका लागि थुप्रै कर्मचारी माग गरेको छ। आजै APPLY गर्नुहोस्। APPLY गर्नका लागि यहाँ क्लिक गर्नुहोस्।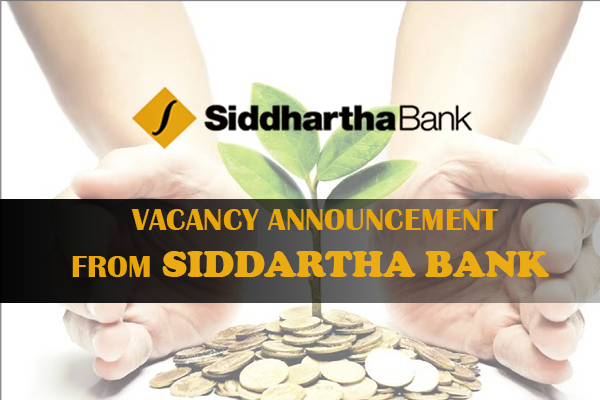 VACANCY ANNOUNCEMENT
Siddhartha Bank Limited, a constantly growing Class "A" Commercial Bank offers a wide range of innovative banking products, solutions and services. In order to meet our progressive growth plan; we are in quest of recruiting highly enthusiastic, result oriented and adroit Nepalese citizens with strong craving to excel in banking for the following positions:
JOB POSITIONS:
Aspirant shall be responsible for overseeing overall business affairs within his/her assigned province/sub province and assume leadership role in order to ensure encouraging and sustainable business growth of the given provinces and its branches.
The candidate needs to be business driven and target oriented and expected to have sound business insight of respective province. Prospective candidate needs to be fully acquainted with overall credit, marketing and sales function with capacity to lead the province prudently and effectively with sheer aspiration to accomplish good market share in the deployed province.
Job Locations:
Province 1 : (Sub Province Office: Birtamode) : Deputy Manager
Province 2 : (Sub Province Office : Janakpur) : Deputy Manager
Province 3 : (Province Office: Bharatpur) : Deputy Manager
Province 7 : (Province Office : Dhangadi) : Deputy Manager
The aspirants are expected to hold excellent competitive credit knowledge, setting and ensuring compliance with a corporate credit policy and make decisions concerning credit limits, responsible for supporting strategic goals by managing risk. Aspirants should be able to outline plans, tactics and roadmaps and ensure their effective implementation and should have an ability to instruct and nurture team members and inspire them for better achievements.
The aspirant candidate shall be capable to deliver relevant HR strategies and services and effectively build the organizational capability required to achieve business goals and imperatives through effective recruitment process, change management, talent management, employee relationship management and performance management. Aspirant is expected to have sound exposure on digital transformation of overall Human Resource Management System and practice.
The aspirant candidate should have strong communication and customer relationship management skills with ability to develop new deposit based products with aptitude to strive for achievement of ambitious targets. Incumbent is also expected to have strong cross selling skill with capacity to lead and motivate sales team of the Bank for achievement of set business goal. The aspirant should also possess sound knowledge of the market with knack on developing marketing strategy for sustainable and healthy growth of overall deposit portfolio of the Bank. The Candidate should have strong relationship with Corporate/Public Enterprise/ Government Agencies/INGO/NGO and development agencies
Aspirant candidate should have excellent communication, interpersonal and negotiation skills with ability to maintain excellent working relationships with all statutory bodies, regulatory agencies, media and relevant stakeholders with proven track record of driving brand, effective communications and good Public Relationship. The incumbent is expected to have strong written and oral communication skills and well versed in marketing techniques across TV, FM, radio, print and electronic Media. Similarly, aspirant should have good exposure of product planning and development and capacity to enhance corporate profile and branding of the Bank.
Likewise, aspirant candidate is expected to have decent experience of Digital marketing who is technologically sound with enriched exposure in sales and marketing. Incumbent shall be able to develop digital marketing strategies for the Bank and its customers.
The incumbent is expected to have sound capability to work with numerical information, strong analytical and statistical knack on compilation and presentation of relevant data/ information through innovative and creative approach with technically sound knowledge on research and surveys with good command on Microsoft excel power point presentation.
The incumbent is also responsible for developing and driving strategic planning of the Bank in collaboration with strategic divisions and senior executive management of the Bank in order to support Bank's overall growth. The ideal candidate will have a highly analytical mind, demonstrated leadership experience across cross-functional groups, and the ability to communicate effectively with senior leadership.
The incumbent will be responsible for the entire IT environment of the Bank and for digitizing the entire gamut of banking operations reduction in cost of operations by leveraging the digital shift. He/she should have exposure to Payment solutions along with firsthand knowledge in supervising development of software solutions. The Aspirant shall be capable to develop and maintain overall framework of IT policies, standards and strategies that will empower business and people to deliver on their commitments to the strategy and budgets.
The Candidate is expected to have excellent interpersonal & communication skill and expected to be updated with current (and future) levels of IT security, threats, vulnerabilities that could impact the Banks digital and financial assets Responsibilities
For Manager/Deputy Manager position: Minimum Academic qualification of Bachelor's Degree in the field of Business/ Management/Economics/IT/Engineering with at least seven years of relevant experience preferably in Banking sector or Master's Degree in the field of Business/Management/Economics/IT/Engineering with at least five years of relevant experience preferably in Banking sector and age not exceeding 50 years as on application deadline.
Candidate applying for above mention job positions should be presently working at the same level or one level below the applied position for at least two years.
Candidate applying for Province/Sub Province Office should mention at least one preferred province during the time of application. Preference shall be given to local candidates or candidates having fair business exposure and knowledge of applied province.
Application Procedures: Interested candidates are requested to apply via https://www.siddharthabank.com:44/career
Application Deadline: August 24, 2018.
This vacancy was announced in The Himalayan Times on 15th August, 2015.