BANKING CAREER! Kailash Bikas Bank मा उपत्यका र बाहिरका बिभिन्न शाखाका लागि थुप्रै सङ्ख्यामा कर्मचारीको आवश्यकता। आजै APPLY गर्नुहोस्।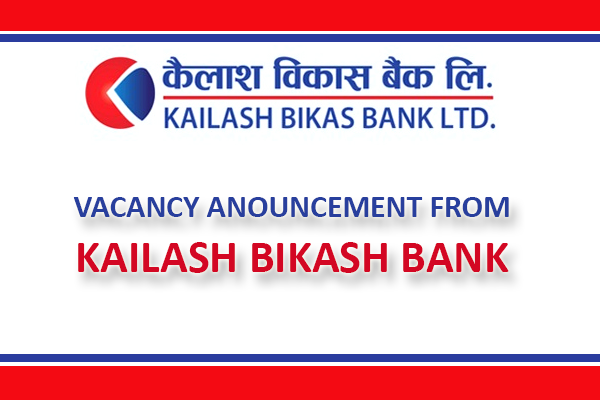 Vacancy Announcement
Kailash Bikas Bank Limited, a leading National Level Development Bank which has been rendering excellent services to its clients for 25 years is seeking application from dedicated and competent candidates to enhance business in line with the progressive strategy of the Bank to sustain business practices and to deliver consistent growth. Deserving and Self-Motivated candidates may apply for the position mentioned below:
1.Trainee Assistant – Few
(Kathmandu, Siraha, Dhanusha, Palpa, Banepa, Mahottari, Dhading, Kapilvastu, Rupandehi, Pokhara, Narayangadh, Butwal, Jhapa, Morang)
Bachelor's Degree in Management with minimum second division from a recognized University.
Proficient in written/spoken English and Nepali
Computer literate with a working knowledge of office applications
Age not exceeding 35 years
2.Branch Managers-Junior Officer/Officer
(Kathmandu, Siraha, Dhanusha, Palpa, Banepa, Mahottari, Dhading, Kapilvastu, Rupandehi)
Master's Degree in Management or equivalent degree from recognized university having at least 5 years of banking experience with minimum 2 years in Credit Relationship Management
Age not exceeding 40 years
3. Branch Managers-Supervisor
(Siraha, Dhanusha, Palpa, Banepa, Mahottari, Dhading, Kapilvastu, Rupandehi)
Bachelor's Degree in Management from a recognized University having at least 3 years of banking experience with minimum 1 years in Credit Relationship.
Proficient in written/spoken English and Nepali
Computer literate with a working knowledge of office applications
Age not exceeding 35 years

Note: Candidates applying for the above positive should not exceed the mentioned age as on October 24, 2018. Position shall be negotiable for qualified and eligible candidate's communication with their experience and expertise.

Only Shortlisted candidates will be called for further process. The Bank reserves the right to reject any/all application without assigning any reasons whatsoever. Any incomplete application shall not be accepted.
HOW TO APPLY
Individual wishing to apply for the position should fill up the online form and attach transcript of Bachelor degree/Master Degree (scanned copy and CV/Resume with full details and pp size photo. The deadline for application is 17:00 hrs., October 24, 2018
Our Website to apply: www.kailashbikashbank.com/career