ActionAid International Nepal Announces Vacancy At Various Positions | एक्शनएड इन्टरनेसनल नेपाल द्वारा विभिन्न तहमा Vacancyको माग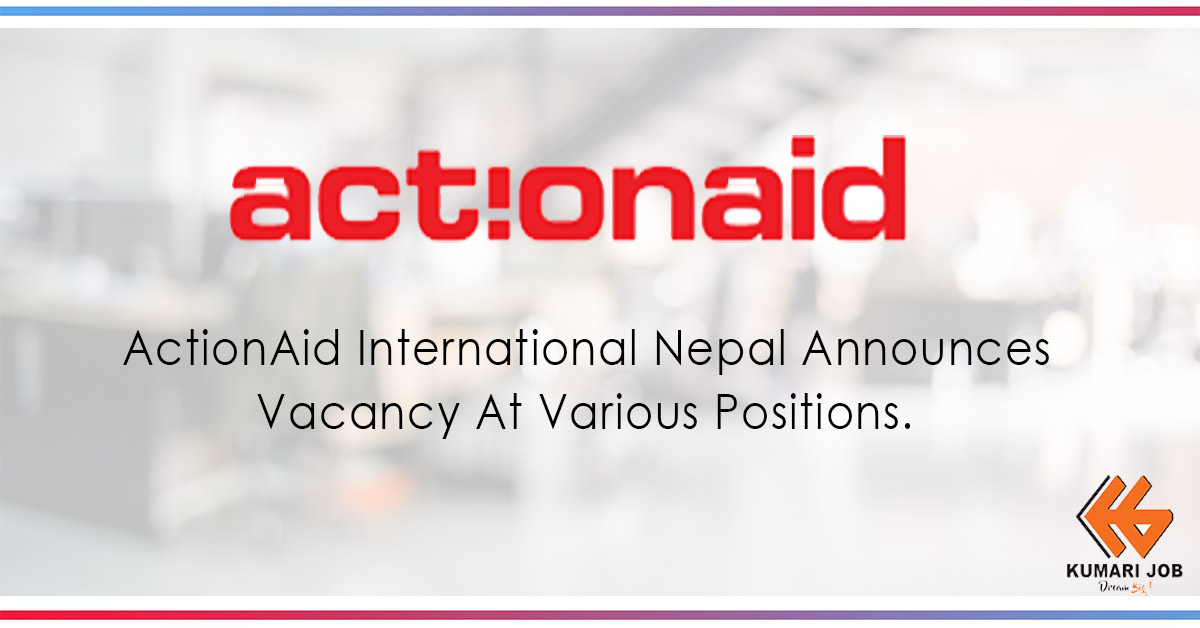 ActionAid is a global justice federation working to achieve social justice, gender equality and poverty eradication. It was founded as a charity in 1972, and throughout its history it has innovated and evolved its approach to better address the structural drivers of poverty and injustice. ActionAid believes people living in poverty and exclusion have the power within them to create change for themselves, their families and communities and ActionAid is a catalyst for that change. In the 1990s, ActionAid adopted a human rights-based approach to development, which is ongoing as its core approach. In 2003, the ActionAid International federation was established, comprising members in every region of the world, and headquartered in South Africa.
ActionAid International Nepal is a member of the federation, working for human rights, anti-poverty and gender equality. It is a non-governmental national social justice organisation established in 1982 and working locally in different provinces of Nepal. It is also a part of both national and global social justice movement and other civil society networks, alliances and coalitions.
1. Position: Fundraising Coordinator
> Department: Resource Generation
> Job Family: Fundraising
> Reports to: Resource Generation Manager
> Grade: 6
> Location: Country Office, Kathmandu
> Direct Reports: Associate Fundraising Officer


Key Responsibilities:
This position contributes to explore new funding sources (international and in-country), handle statutory reporting requirements of institutional development partners and other donors, and find appropriate projects within or outside the working area of AAIN and ensure the fund is best managed and maintain good liaison with the funding countries, donors (High value and Institutional)
Key Competencies Required:
> Master's degree in Management/ Marketing or its equivalent from a recognized University
> At least 5 -7 years of work experience in related field in a similar organisation
> Substantial experience with public speaking and business writing for at least 2 years
> Fluency in spoken and written English and Nepali is essential

For more Job Description, please apply here: ( http://bit.ly/2lAc1kr)
2. Position: Communication Trainee
> Department: Organisational Impact and Communication (OIC)
> Job Family: NA
> Reports to: Impact Assessment & Learning Coordinator
> Grade: Trainee
> Location: Country Office, Kathmandu
> Direct Reports: None
Key Responsibilities:
This position supports Organisational Impact and Communication department in preparing both internal and external communication materials. It could be for print publications, social media, website and press releases. The role also includes translating documents from Nepali-English-Nepali
Key Competencies Required:
> At least a Bachelor's Degree in Mass Communication, Journalism or relevant subject; preferably a Master's degree in a relevant discipline
> No prior experience is required; but preferably some practical experience in communication related assignments Essential Knowledge/Skills
> Excellent IT skills (mainly Microsoft Office Package) and digital communication tools
> Strong interpersonal and organisational skills
> Prior experience of working with journalists and media sector will be an advantage

Application Deadline: 2 October 2019

For more Job Description, please apply here: ( http://bit.ly/2n5FF1y)
HOW TO APPLY
Interested candidates are requested to get the detailed Job Descriptions and Application Form from website at [ http://bit.ly/2kYXnDf ] .The application deadline is on Wednesday 2 October 2019, 5:00 pm.
AAIN is an equal opportunity organisation which believes in promoting affirmative action to enable women, dalit, disabled and ethnic people.