Nepal's performance in Miss World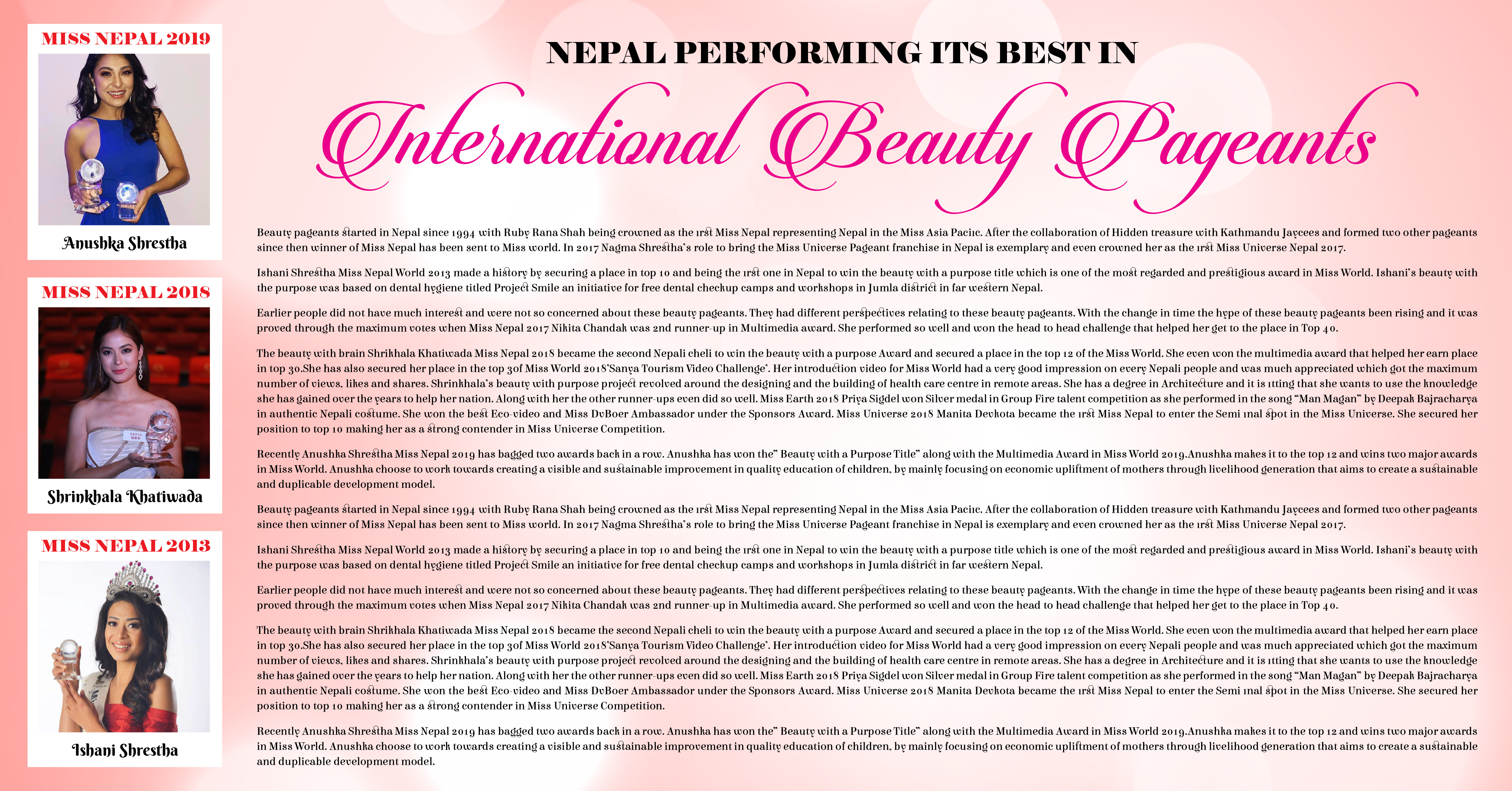 Nepal performing its best in International Beauty Pageants
Beauty pageants started in Nepal since 1994 with Ruby Rana Shah being crowned as the first Miss Nepal representing Nepal in Miss Asia Pacific. After the collaboration of Hidden treasure with Kathmandu Jaycees and formed two other pageants since then winner of Miss Nepal has been sent to Miss World. In 2017 Nagma Shrestha's role to bring the Miss Universe Pageant franchise in Nepal is exemplary and even crowned her as the first Miss Universe Nepal 2017.
Ishani Shrestha Miss Nepal World 2013 made history by securing a place in the top 10 and being the first one in Nepal to win the beauty with a purpose title which is one of the most regarded and prestigious awards in Miss World. Ishani's beauty with the purpose was based on dental hygiene titled Project Smile an initiative for free dental checkup camps and workshops in Jumla district in far western Nepal.
Earlier people did not have much interest and were not so concerned about these beauty pageants. They had different perspectives relating to these beauty pageants. With the change in time, the hype of these beauty pageants been rising and it was proved through the maximum votes when Miss Nepal 2017 Nikita Chandak was 2nd runner-up in Multimedia award. She performed so well and won the head to head challenge that helped her get to the place in Top 40.
The beauty with brain Shrikhala Khatiwada Miss Nepal 2018 became the second Nepali cheli to win the beauty with a purpose Award and secured a place in the top 12 of the Miss World. She even won the multimedia award that helped her earn a place in the top 30. She has also secured her place in the top 3of Miss World 2018'Sanya Tourism Video Challenge'. Her introduction video for Miss World had a very good impression on every Nepali people and was much appreciated which got the maximum number of views, likes, and shares. Shrinkhala's beauty with purpose project revolved around the designing and the building of health care centre in remote areas. She has a degree in Architecture and it is fitting that she wants to use the knowledge she has gained over the years to help her nation. Along with her the other runner-ups even did so well. Miss Earth 2018 Priya Sigdel won Silver medal in Group Fire talent competition as she performed in the song "Man Magan" by Deepak Bajracharya in authentic Nepali costume. She won the best Eco-video and Miss DvBoer Ambassador under the Sponsors Award. Miss Universe 2018 Manita Devkota became the first Miss Nepal to enter the Semi-final spot in the Miss Universe. She secured her position to top 10 making her a strong contender in Miss Universe Competition.
Recently Anushka Shrestha Miss Nepal 2019 has bagged two awards back in a row. Anushka has won the" Beauty with a Purpose Title" along with the Multimedia Award in Miss World 2019. Anushka makes it to the top 12 and wins two major awards in Miss World. Anushka chooses to work towards creating a visible and sustainable improvement in the quality education of children, by mainly focusing on economic upliftment of mothers through livelihood generation that aims to create a sustainable and duplicable development model.