CIMMYT INVITING APPLICANTS: HURRY UP!!!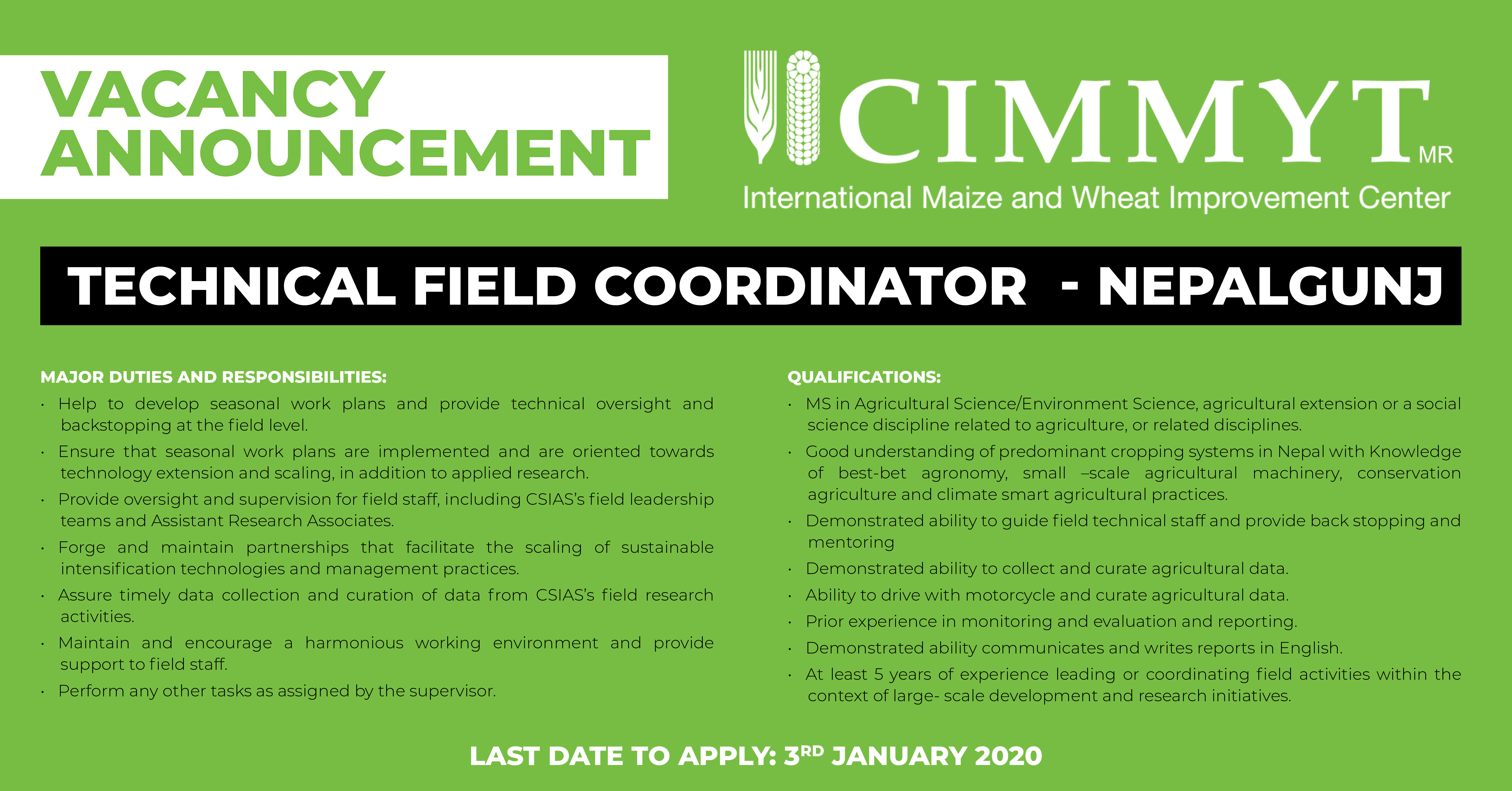 CIMMYT INTERNATIONAL
Position: Technical Field Coordinator
Number of Vacancies: Nepalgunj
Description
Major Duties and Responsibilities:
Help to develop seasonal work plans and provide technical oversight and backstopping at the field level.
Ensure that seasonal work plans are implemented and are oriented towards technology extension and scaling, in addition to applied research.
Provide oversight and supervision for field staff, including CSIAS's field leadership teams and Assistant Research Associates.
Forge and maintain partnerships that facilitate the scaling of sustainable intensification technologies and management practices.
Assure timely data collection and curation of data from CSIAS's field research activities.
Maintain and encourage a harmonious working environment and provide support to field staff.
Perform any other tasks as assigned by the supervisor.
Qualifications
MS in Agricultural Science/Environment Science, agricultural extension or a social science discipline related to agriculture, or related disciplines.
Good understanding of predominant cropping systems in Nepal with Knowledge of best-bet agronomy, small –scale agricultural machinery, conservation agriculture, and climate-smart agricultural practices.
Demonstrated ability to guide field technical staff and provide backstopping and mentoring
Demonstrated ability to collect and curate agricultural data.
Ability to drive with a motorcycle and curate agricultural data.
Prior experience in monitoring and evaluation and reporting.
Demonstrated ability communicates and writes reports in English.
At least 5 years of experience leading or coordinating field activities within the context of large- scale development and research initiatives.
LAST DATE TO APPLY: 3 January 2020