World Health Organization(WHO) announces vacancy for Immunization Program Assistant (IPA).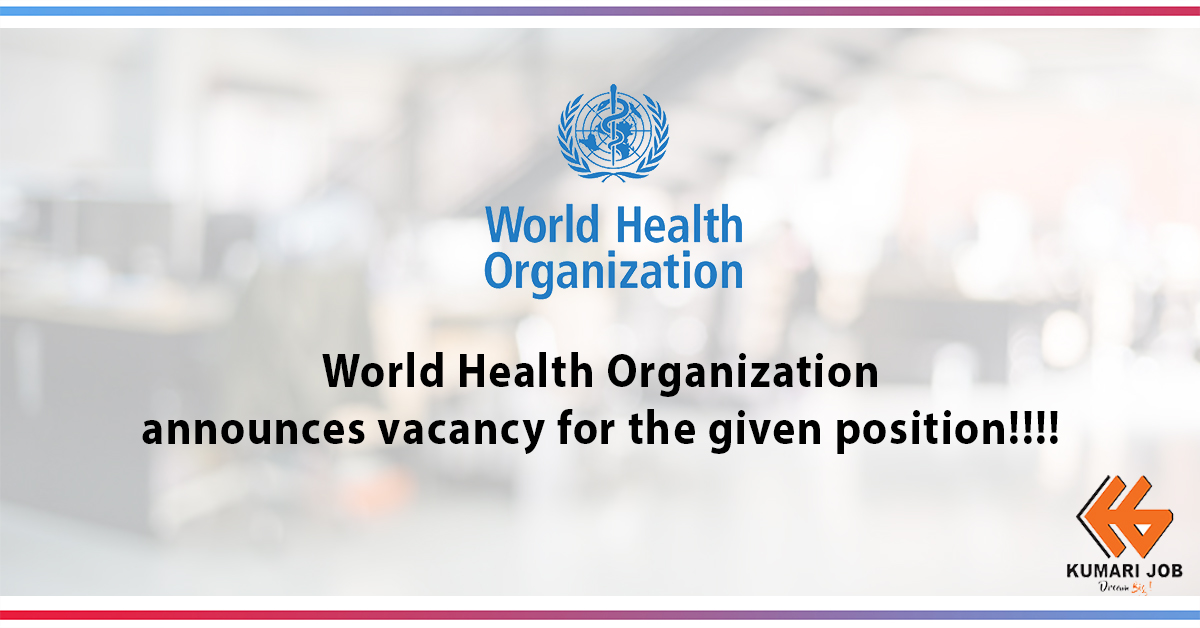 VACANCY ANNOUNCEMENT
Organization: World Health Organization
Position: Immunization Program Assistant (IPA) – SSA – (2004880)
Grade No grade
Contractual Arrangement: Special Services Agreement (SSA)
Contract Duration (Years, Months, Days): 1 year
Closing Date: Dec 26, 2020, 4:44:00 AM
Primary Location: Nepal-Kathmandu
Organization SE_NEP WR Office, Nepal
Schedule Full-time
IMPORTANT NOTICE: Please note that the deadline for receipt of applications indicated above reflects your personal device's system settings.
Objective of the position:
The purpose of the position is to provide support to Programme for Immunization Preventable Diseases (IPD), WHO, Nepal. All activities must be carried out in line with WHO technical and administrative and financial guidelines. Immunization Program Assistant will be positioned in WHO-IPD Central Office.
DESCRIPTION OF DUTIES (TOR)
Under the direct supervision of Immunization Cluster Lead and overall supervision of Team Lead IPD (MO-EPI), and maintaining close coordination with other IPD Clusters and Field Offices, as needed, the incumbent will be responsible for performing the following duties:
1. Support collecting, collating, compiling, and analyzing immunization and other program-data from health management information system (HMIS).
2. Assist Immunization Cluster to estimate vaccines and ancillary items, target population, budget allocations or requirements for all levels (national, province, district, and municipality) for routine immunization, new vaccine introductions, and for vaccination campaigns.
3. Support Immunization Cluster to develop forms, formats and guidelines.
4. Provide support (including collating of financial data, logistics data) to prepare yearly reporting requirements such as WHO/UNICEF Joint Reporting Form on Immunization (JRF), WHO-SEARO IVD Annual EPI Reporting Form (AERF), and Gavi and/or other donor reporting requirements.
5. Provide secretarial support as needed to Family Welfare Division to develop Annual Work Plan and Budget (AWPB) for the immunization program for all levels. Support to develop financial documents, including analysis and allocations, and detail program budget as per requirement of the immunization program.
6. Support Immunization Cluster to develop proposals and contractual documents such as Direct Financial Cooperation (DFCs), Agreement for Performance of Work (APW), Direct Implementation (DI), etc., and to track statement of expenditure (SoE) and award utilization.
7. Support (including logistics and administrative support) preparation, processes and documentations of meetings of immunization committees, working groups and workshops.
8. Support Family Welfare Division and Finance Section, Department of Health Services, to prepare documents for Gavi or other immunization donor's cash grant budget release (including timely disbursement) for central, provincial, district and municipality level, and support collection of statement of expenditures (SoE). Support documentation and follow-up as required for this with Financial Comptroller General Office.
9. At all times maintain excellent professional working relationship with Government staff, partners, and stakeholders.
10. Carryout any other duties pertaining to Programme for Immunization Preventable Diseases (IPD), EPI strengthening activities as required by Immunization Cluster lead and/or Team Lead IPD.
REQUIRED QUALIFICATIONS
Education:
Essential:
Completion of Bachelor level education in administration and finance or related field
Desirable:
Training (with certification) on courses in administrative and financial skills.

Training (with certification) on courses in Microsoft Office (at least Word, PowerPoint and Excel).
Experience:
Essential:
Three years experience in administration and finance or similar functions
Desirable:
Experience of working with NGO, INGO, or UN organization

Experience of working for immunization

Experience of working for public health (other than immunization)

Fluent in typing in English and Nepali
WHO Competencies:
Teamwork

Producing results

Respecting and promoting individuals and cultural differences

Communicating in a credible and effective way

Ensuring the effective use of resources
Language Excellent knowledge of written and spoken language skills in English and Nepali
REMUNERATION: Approximately NPR 97,279.00 per month (taxable)
Duty Station: WHO-IPD Central Office (Kathmandu)
Additional Information:
This vacancy requisition may be used to fill other similar positions at the same level

Only candidates under serious consideration will be contacted

A written test may be used as a form of screening.

Qualified female candidates are encouraged to apply

Candidates should be ready to produce all testimonials and certificates in original.

Any misrepresentation of facts would disqualify the candidate.

No telephone enquiries or paper application pleas.

WHO is committed to workforce diversity

WHO has a smoke-free environment and does not recruit smokers or users of any form of tobacco.
The ideal candidate should be self-motivated and able to deliver results with minimal supervision. Absolute integrity and reliability for data and financial responsibilities are essential. WHO has a zero tolerance policy towards any kind of sexual exploitation or harassment. No deviations in these areas will be tolerated.
---