World Health Organization(WHO) announces vacancy for Administrative and Finance Assistant (AFA).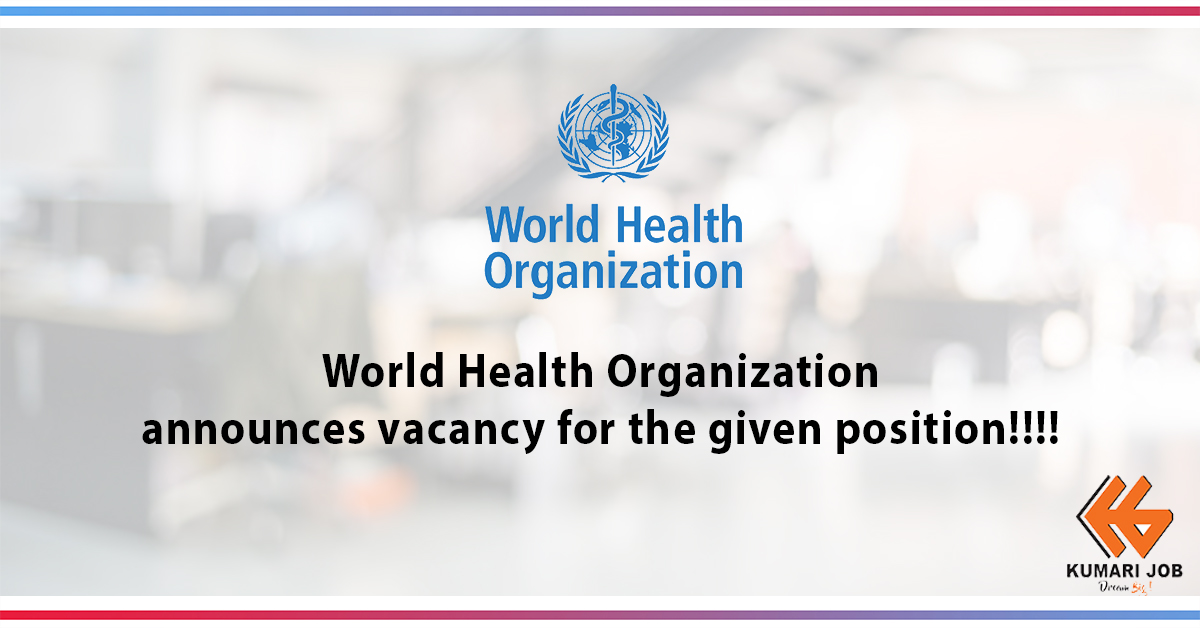 INGO Vacancy | World Health Organization(WHO) announces vacancy for Administrative and Finance Assistant (AFA).
Position: Administrative and Finance Assistant (AFA) – SSA – (2004872)
Contractual Arrangement: Special Services Agreement (SSA)
Contract Duration (Years, Months, Days): 1 year
Closing Date: Dec 26, 2020, 4:44:00 AM
Primary Location: Nepal
Organization: SE_NEP WR Office, Nepal
Schedule: Full-time

IMPORTANT NOTICE: Please note that the deadline for receipt of applications indicated above reflects your personal device's system settings.
The purpose of the position is to provide administrative and financial support to Field Offices (FO) of the WHO Immunization preventable Disease (WHO-IPD) program. The incumbent will report to the WHO-IPD Surveillance Medical Officer (SMOs) and facilitate prompt and reliable communication between WHO-IPD FO and WHO-IPD main office (MO) in Kathmandu. All activities must be carried out in line with WHO administrative and financial guidelines.
DESCRIPTION OF DUTIES (TOR)
Under the direct supervision of the designated Surveillance Medical Officer (SMO) and overall supervision of Medical Officer (MO-EPI) & Team lead IPD, the incumbent performs following duties:
1) Administrative and general office support:
a) Maintain prompt and reliable communication between IPD FO and IPD MO and the relevant government Public Health Offices linked to the IPD FO through both electronic and conventional paper based communications.
b) Procure office supplies as necessary and maintain an updated inventory of all office assets.
c) Maintain all personnel records as per administration and financial guidelines.
d) Ensure that records of vehicle movement are properly maintained and all expenditure (fuel, repairing and maintenance) are recorded.
e) Ensure that all office equipment is rationally used and take steps to prevent any potential misuse of the same.
f) To ensure Minimum Operating Security Standards (MOSS) is strictly adhered to.
g) As per need, support emergency response as determined by Team Lead IPD
2) Financial functions:
a) Cash book: Maintain daily updated IPD FO Cash book with all proper supporting documents. At the end of the month, submit monthly cash book with all supporting documents including bank statement and bank reconciliation statement, cash replenishment request etc. to IPD central office by submission deadlines.
b) Monitor and maintain approved and sufficient cash limits in office and take necessary precautions to ensure physical security of petty cash and cheque book.
c) Organize timely payment of all bills for goods and services procured by FO, in line with administration and financial guidelines.
d) If necessary, prepare annual budget in collaboration with SMO and IPD Finance team.
3) Support in technical functions:
a) Collect reports from different surveillance reporting units as well as other activities (e.g. Immunization related) as necessary and as directed by SMO
b) Receive and, where advised by SMO, coordinate collection of biological specimens for vaccine preventable diseases surveillance with proper labelling and dispatch to IPD MO as per protocol.
c) Keep track of surveillance and immunization support activities and linked payments and support logistics for training workshops as necessary.
4) General:
a) At all times maintain excellent professional working relationship with Govt. counterparts, surveillance network and other stakeholders.
b) Any other tasks as assigned by the Supervisors.
REQUIRED QUALIFICATIONS
Education:
Essential 1) Completion of higher secondary school education or equivalent.
Desirable 1) Training certificates and /or courses in secretarial / administrative skills / finance
2) Training in data analysis software would be an asset.
3) Additional qualifications in administration and finance would be an asset
Experience:
Essential Two years' experience in secretarial, clerical, administration and finance or similar functions
Desirable 1) Experience of working with UN and NGO or INGO would be an asset
2) Demonstrated experience in procurement would be an asset.
3) Demonstrated experience in office correspondence would be an asset.
Other Skills:
Essential Proficiency in Microsoft Office: word processors, spreadsheets and other data processing, presentation programmes, Outlook and send out calendar invites.
Desirable 1) Working knowledge of data processing programmes would be an asset
2) Fluent in English / Nepali typing
WHO Competencies:
Teamwork

Communication in credible and effective way

Producing Results

Respecting and promoting individuals and cultural differences
Language Excellent knowledge of written and spoken language skills in English and Nepali
REMUNERATION: Approximately NPR 81,066.00 per month (taxable)
Duty Station: Any of the WHO-IPD Field Offices (Outside valley)
Additional Information:
This vacancy requisition may be used to fill other similar positions at the same level

WHO has a smoke-free environment and does not recruit smokers or users of any form of tobacco.

WHO is committed to workforce diversity

No telephone enquiries or paper application pleas.

Any misrepresentation of facts would disqualify the candidate.

Candidates should be ready to produce all testimonials and certificates in original.

Qualified female candidates are encouraged to apply

A written test may be used as a form of screening.

Only candidates under serious consideration will be contacted
The ideal candidate should be self-motivated and able to deliver results with minimal supervision. Absolute integrity and reliability for data and financial responsibilities are essential. WHO has a zero tolerance policy towards any kind of sexual exploitation or harassment. No deviations in these areas will be tolerated.